Breaking Down The $500M Deal That Puts NBC In The Sports Gambling Game
How the unique deal structure aligns interest, giving NBC significant financial upside.
Every morning I write an email discussing the business and money behind sports. If you would like to receive it directly in your inbox, subscribe now.
Friends,
Last week, Australian-based oddsmaker PointsBet, announced a five-year $500M partnership with NBC - becoming the official sports betting partner of NBC Sports.
Let's take a look at the structure of the deal and why I think it's a great agreement for both parties.

(Image Source: NBC)
Although headlines read "5-year, $500M Partnership", the deal should really be broken down into 3 parts.
The Cash Component - PointsBet has guaranteed to spend almost $400M in advertising with NBC Sports over the next 5 years. This part of the deal is structured like a typical marketing agreement - NBC has the audience, PointsBet will pay to reach them.

The Variable - NBC will receive fees in exchange for customers referred to PointsBet. This part is unique, as it incentivizes both parties - think of it as commission on a sale.

The Equity - To further align their interest, NBC has taken a 4.9% equity stake in PointsBet. The equity agreement also allows NBC to purchase an additional 20% after 5 years.
In total, the value of all three parts is expected to be $500M over 5 years (Source).
From a PointsBet perspective, the deal is a home run. PointsBet has marketshare in Australia, but they are relatively unknown here in the United States. So what do they do? They enter the US market with a bang, signing with one of the largest sports media properties in the country.
Customer acquisition is the name of the game and instead of tapping traditional advertising avenues, PointsBet strategically partnered with NBC to exploit their existing distribution network. Deals like this drive customer acquisition cost down and increase lifetime value, especially when compared to traditional ad spend.
The best part?
The deal is also great for NBC.
The PointsBet partnership allows NBC to dip their feet in the fast-growing US sports gambling market, with optionality to fully commit after 5 years. They gave a discount on ad spend, but get to integrate all of PointsBet's data within their app, broadcast, and media properties. With skin in the game, NBC has aligned their interest and has significant financial upside should PointsBet become a major player within the US sports gambling market.
Here is what Johnny Aitken, CEO of PointsBet's US business, had to say regarding the importance of equity in the deal (Source):
"What we didn't want, and what NBC didn't want, is just a traditional agreement where it's solely cash and the mutual motivation isn't there," said Johnny Aitken, CEO of PointsBet's U.S. business. "Having this deal comprised of cash, a variable payment and equity, we truly feel that the more successful NBC makes us, in turn they'll be successful as well."
Speaking of equity, PointBet's stock is up over 70% since the announcement.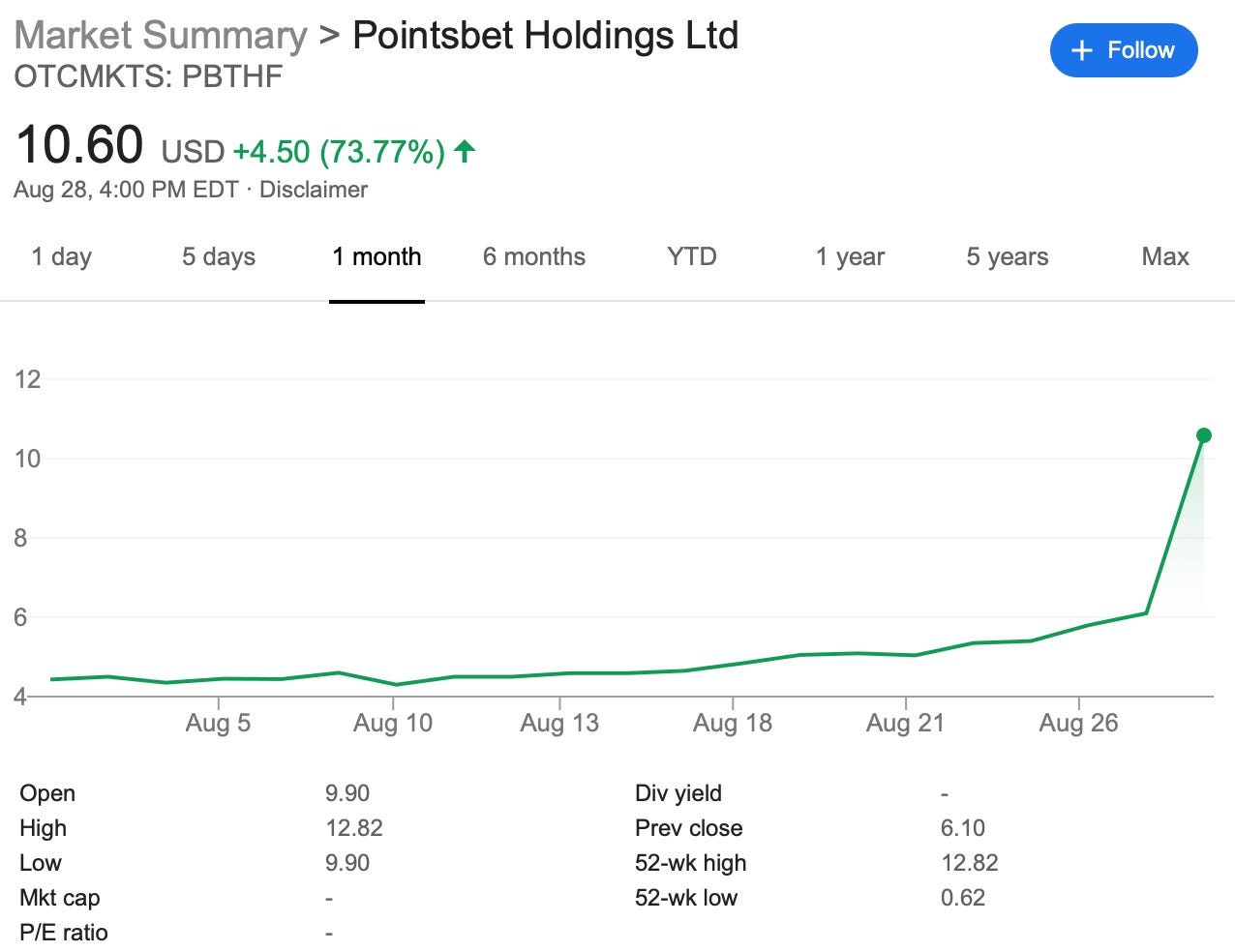 I had the chance to sit down with PointsBet CMO Rick Martira yesterday to discuss the deal.
I've included our conversation below, I think you'll enjoy it as it further expands on the points mentioned above.
We discussed:
Company history

PointsBet's US expansion

Structure of the deal

Why NBC is the right partner

Future of sports gambling
Want To Submit A Topic? 
As we continue to get inbound request regarding specific topics, we'd like to create a streamlined process. Please use the form below to submit potential topics for Huddle Up to write about. If we select your topic, we'll give you a shoutout!