Discover more from Huddle Up
A 3x weekly newsletter breaking down the business and money behind sports. Join 100,000+ subscribers.
Over 118,000 subscribers
Digital Disruption Brings On The 3rd Age Of Sports
The global digital sports agency focused on pioneering the future of sports content creation, distribution and consumption.
Every morning I write an email discussing the business and money behind sports. If you would like to receive it directly in your inbox, subscribe now.
Friends,
It's becoming more obvious by the day — the traditional model of fan engagement, content creation and sports media distribution is experiencing a dramatic shift from traditional to digital.
The shift has been happening for years, but with COVID-19 crippling economies around the world, eliminating the concept of live competition, and challenging the core infrastructure of sports media, it's been significantly accelerated.
Understood, but what's the problem?
I tend to look at it in three main ways:
A lack of innovation is leading to a generational decline in interest - Simply put, younger generations don't love sports as much as their predecessors.

Here's a mind blowing stat — almost 50% of Generation Z (Age 13-23) says they don't even consider themselves a sports fans.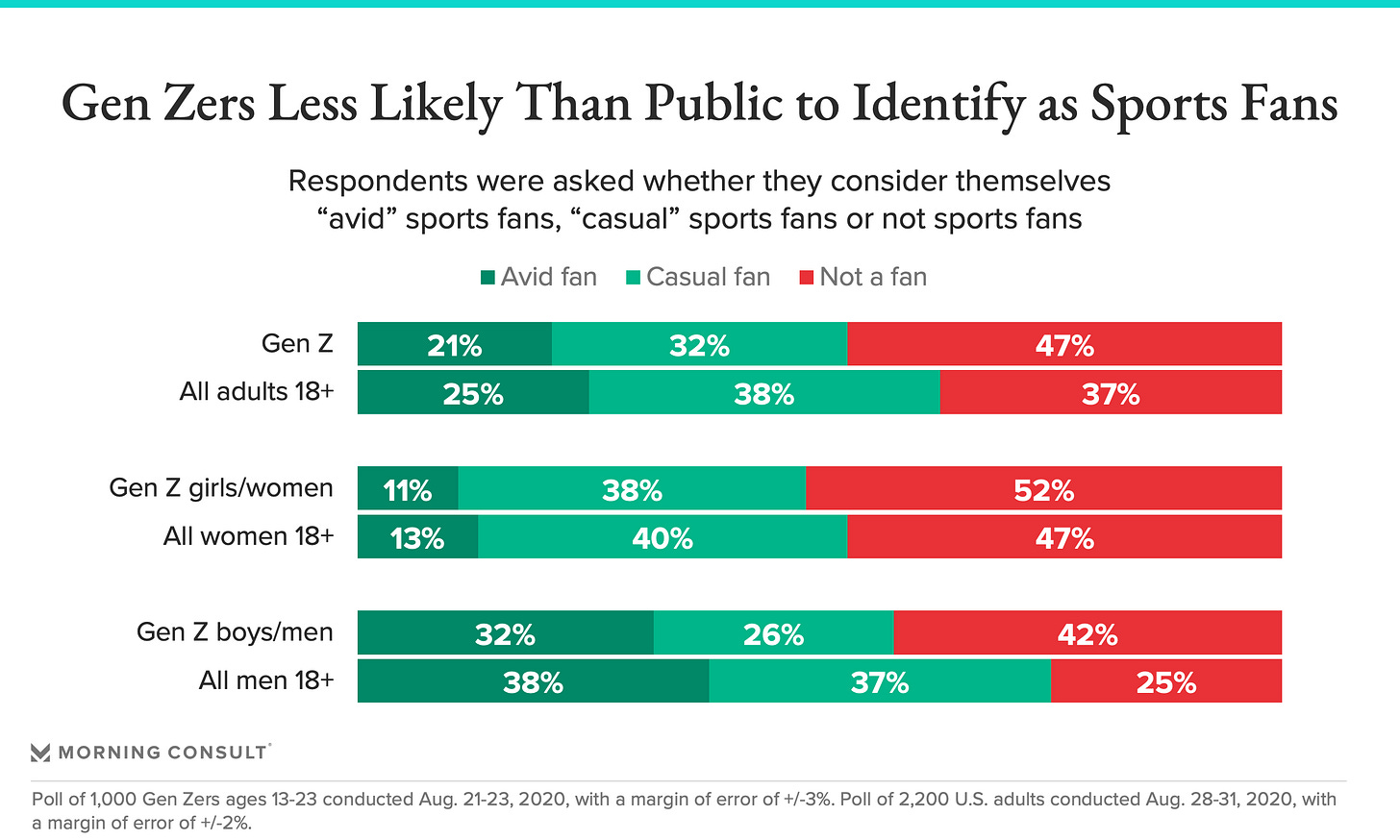 The sports distribution model is broken - Cord-cutting is obvious, but the problem runs deeper.

Think about this example — ESPN, the largest sports media company in the world, has seen their live sports broadcast fees increase by 50% the last 5 years, while they continue to lose millions of cable subscribers per quarter.

In total, the sports media behemoth has lost 20% of their cable subscribers since 2010, costing the company ~$180M in annual affiliate fees.

As media rights continue to march higher and cable subscriptions head south, at what point does the sports media business model break completely?
An inadequate digital fan experience - With COVID-19 shutting down in-person sports viewership, one thing has become abundantly clear — the majority of sports leagues, teams, and athletes around the world lack a sustainable and interactive digital connection to fans that can be monetized appropriately.

Don't believe me?

Over 80% of the 750+ sports media executives PwC polled in their annual survey listed enhancing the digital media fan experience and creating & monetizing digital assets as the greatest opportunities to increase revenue.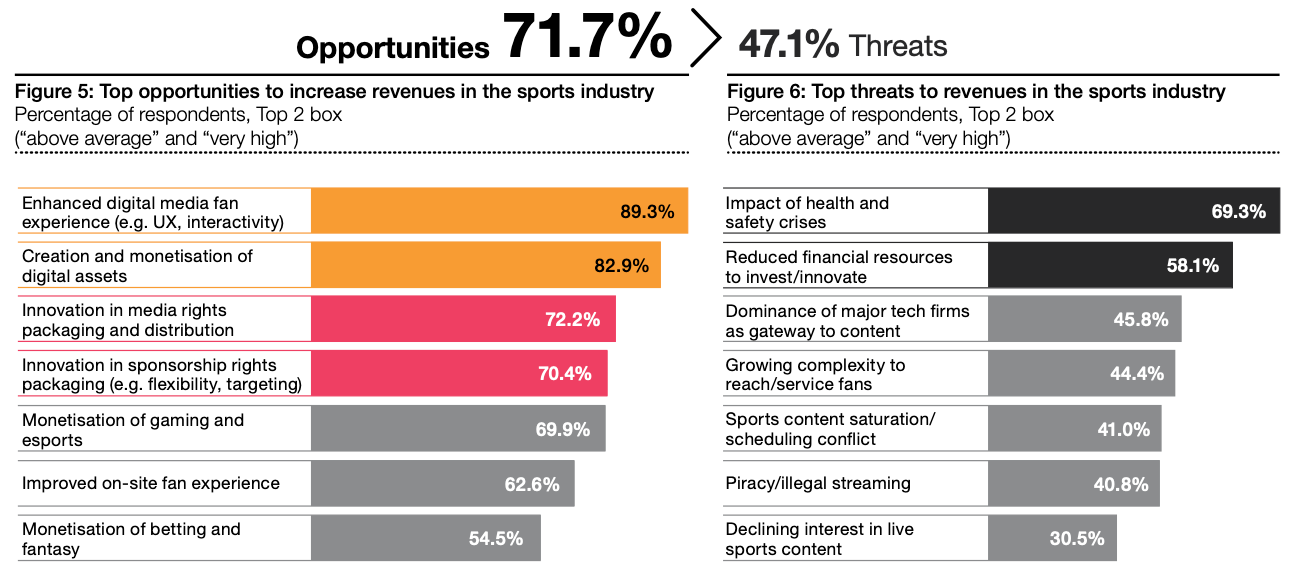 Now that we know the main problems sports face today, how do we adapt to the personality traits of younger generations to increase viewership, change the sports distribution model before it's too late, and build out sophisticated fan-focused digital channels that can be monetized?
The's the billion dollar question — one that sports industry leaders Mailman & Seven League are betting they can solve through a unique partnership centered around the "3rd Age Of Sport."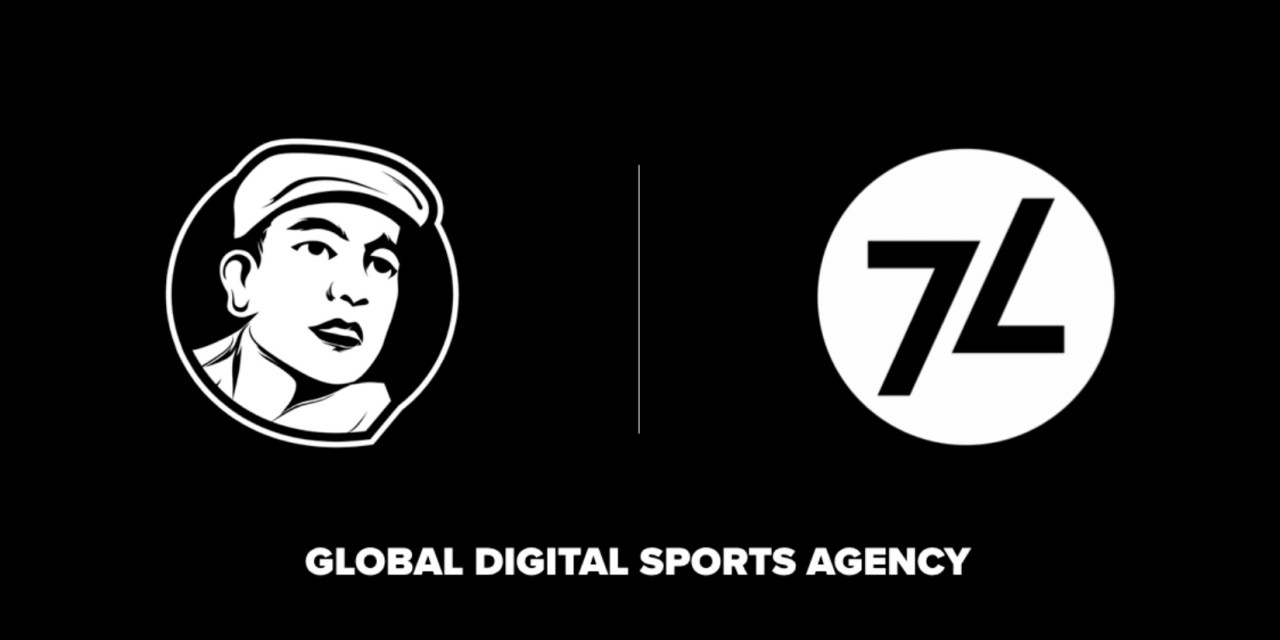 Considering they currently provide digital consultation and agency services to some of the biggest brands in sports history, including the Los Angles Lakers, Dallas Cowboys, NFL, NBA and Nike, the announcement of a digital campaign isn't exactly groundbreaking — but when it comes to their initiative and focus around the future of sports, they couldn't be more spot-on.
The thought process is simple — sports can historically be summarized into two main periods, but with a continued acceleration of digital, we now enter a third.
The First Age - Almost 3,000 years ago, sports started as a pastime for recreation and community involvement, but the advent of mass media enabled millions of people to attend, consume, and participate in sports for the first time themselves.

The Second Age - As culture continued to develop an obsessive passion for the world of sports, entrepreneurship took over and businesses were built. Companies started to charge money for access, developing unique sponsorship and advertising packages, advancing the popularity of amateur and professional sports in the process.

But as media rights and salaries continue to inflate, with increased profit being the only goal, the market has started to look for more efficient ways to utilize capital and increase fan involvement.

Enter the "3rd Age Of Sport."

The Third Age - Moving forward, digital disruption will restructure how sports are being enjoyed, consumed, discovered and monetized — with device proliferation, ubiquitous computing and hardware developments like 5G, everything will be packaged, distributed and consumed differently than it has traditionally.

Think about it this way — As smartphone and internet connectivity approach 100% saturation in large parts of the world, shouldn't we be moving to a model where digital allows us to distribute content and experiences to new audiences in a quicker and cheaper way?
Check out their detailed manifesto here.
You'd rather watch than read?
Here's a 3-minute video Mailman & Seven League released, which provides a compelling and visual breakdown of their vision for the future of sports.
In the end, one thing is certain — as technology continues to advance, the consumption and experience preferences of sports fans across the world will undoubtedly change as well.
Companies like Mailman and Seven League are placing early bets that digital disruption is upon us — think what you want, but I certainly wouldn't bet against them.
If you enjoyed today's email, subscribe now to receive future emails directly in your inbox.
Extra Credit
Today's extra credit is special to me — for those that didn't see my tweet last night, I have officially transitioned to creating sports business content full time.
I'm pumped to be following my passion and promise to continue to provide my readers (you) with detailed breakdowns and thoughtful personal opinion on the most interesting topics in sports.
Check out the thread below — I discuss how I made the transition, where I'm currently at, and what's ahead.
As always, thank you for the support.
This Newsletter Is Brought To You By…

Don't sacrifice your ability to be healthy, active, and at your best to enjoy a great beer - Athletic Brewing has created an innovative lineup of refreshing, non-alcoholic craft beers. At Athletic Brewing, they're all about re-imagining beer for the modern adult.
With Athletic beers, you can have the full relaxing ritual of drinking a great beer to wind down the day, with your dinner, or day drinking, without derailing the rest of your day or week.
Looking for a great beer for Sunday through Thursday nights? Athletic's got you covered.
Give them a try - use "JOE25" for 25% off your first order at athleticbrewing.com.