Peloton: The Roadmap To 100 Million Subscribers
Peloton has seen significant growth related to the COVID-19 pandemic, but where do they go from here?
Every morning I write an email discussing the business and money behind sports. If you would like to receive it directly in your inbox, subscribe now.
Friends,
While the COVID-19 pandemic has significantly halted industries in the United States like airlines and consumer retail, it has meaningfully accelerated others like e-commerce and digital fitness.
How aggressive has the shift been?
Within in the U.S. specifically, we've seen greater e-commerce penetration in the last few months than we saw in the previous 10-years combined.
From a digital fitness perspective, just check out the stock price of Peloton.
The category defining fitness and media company is up over 300% this year.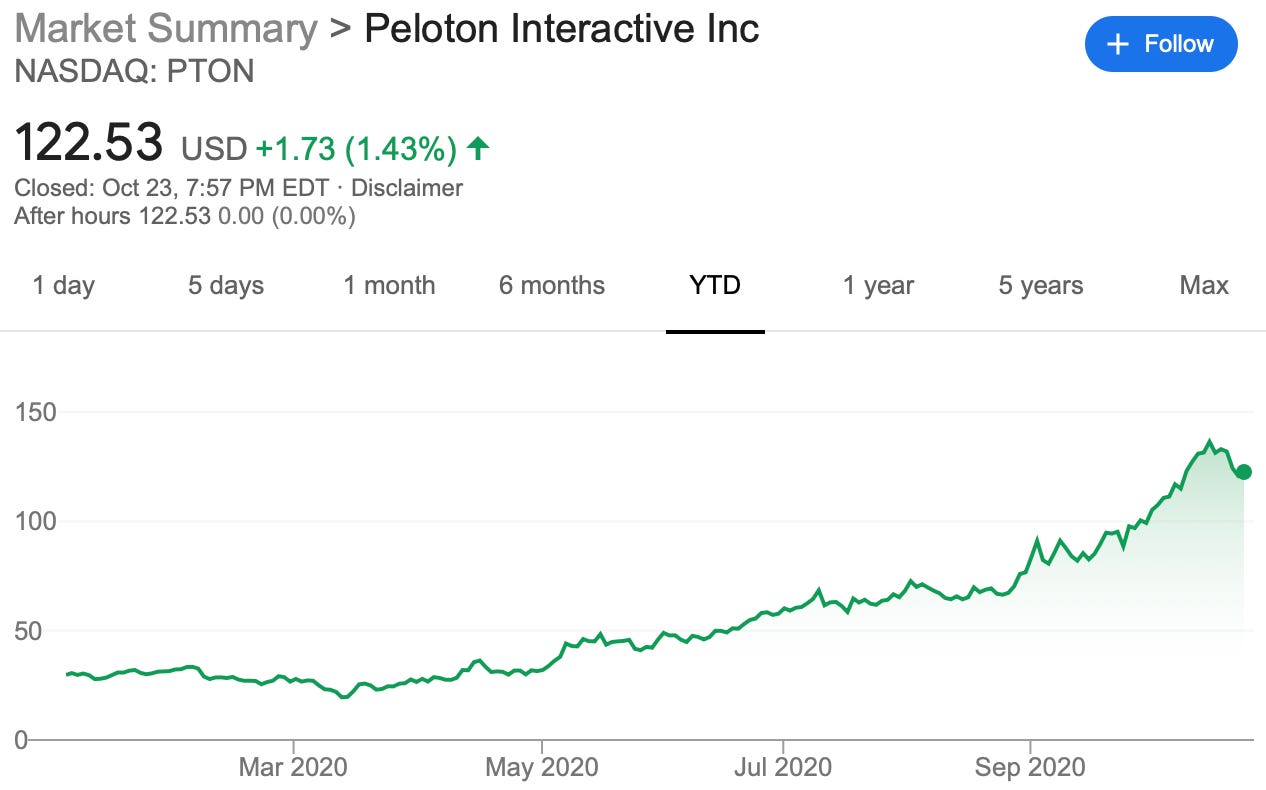 Given the acceleration in the digital fitness space, and the surplus of questions I get on Peloton specifically, I thought it would be interesting to break down how Peloton makes their money, what their competitive advantages are, and what makes me so bullish on the company long-term.
As always — I'm not an equity analyst, and it would be foolish to buy stocks based on my opinion alone, but here are a few things I think are interesting :)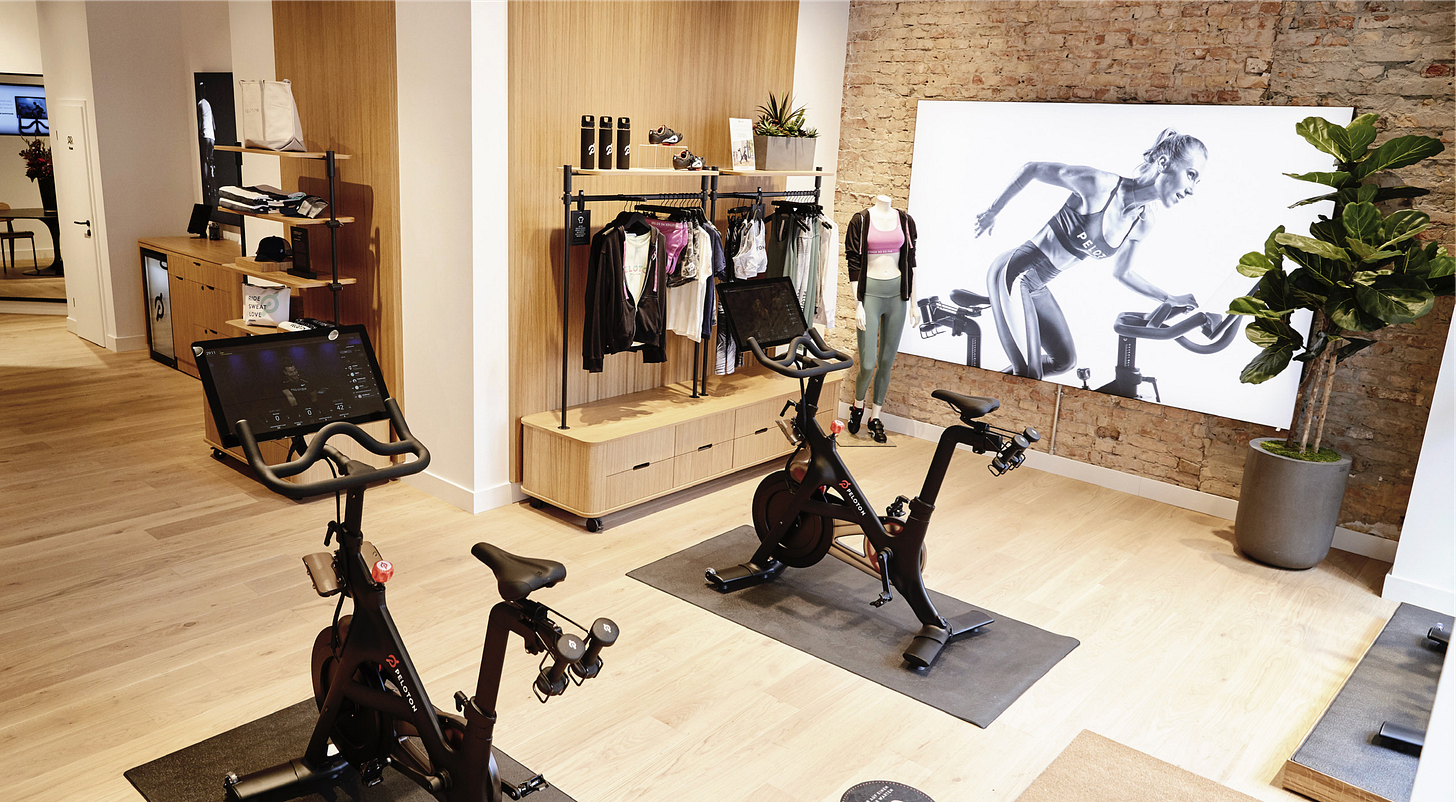 (📸 / Peloton)
Peloton's Business Model
Peloton's revenue can be broken down into three main categories:
Connected Fitness Products

Subscriptions

Apparel
Connected Fitness Products
Peloton sells four physical workout products — a bike and treadmill, each offered with a higher and lower priced option.
Here are the two bike options, the Peloton Bike and the Peloton Bike+:
Pricing starts at $49/mo for the Peloton Bike and $64/mo for the Peloton Bike+.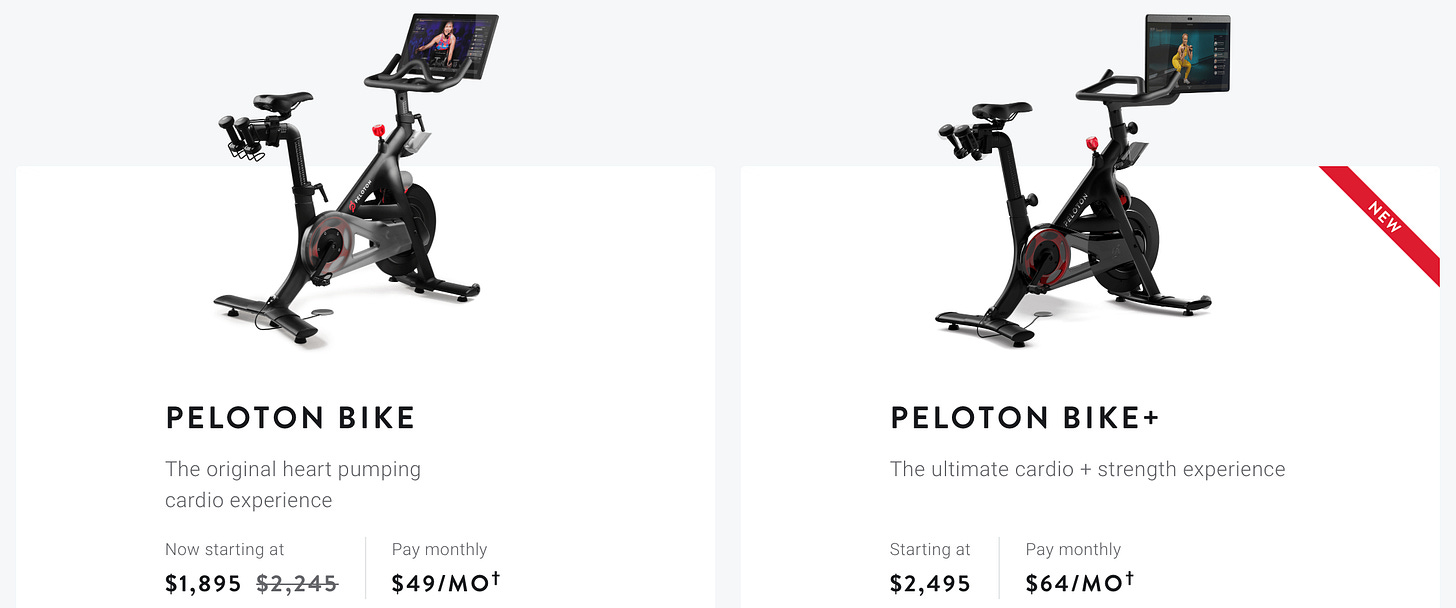 (📸 / Peloton)
Here are the two treadmill options, the Peloton Tread and the Peloton Tread+:
Pricing starts at $64/mo for the Peloton Tread and $111/mo for the Peloton Tread+.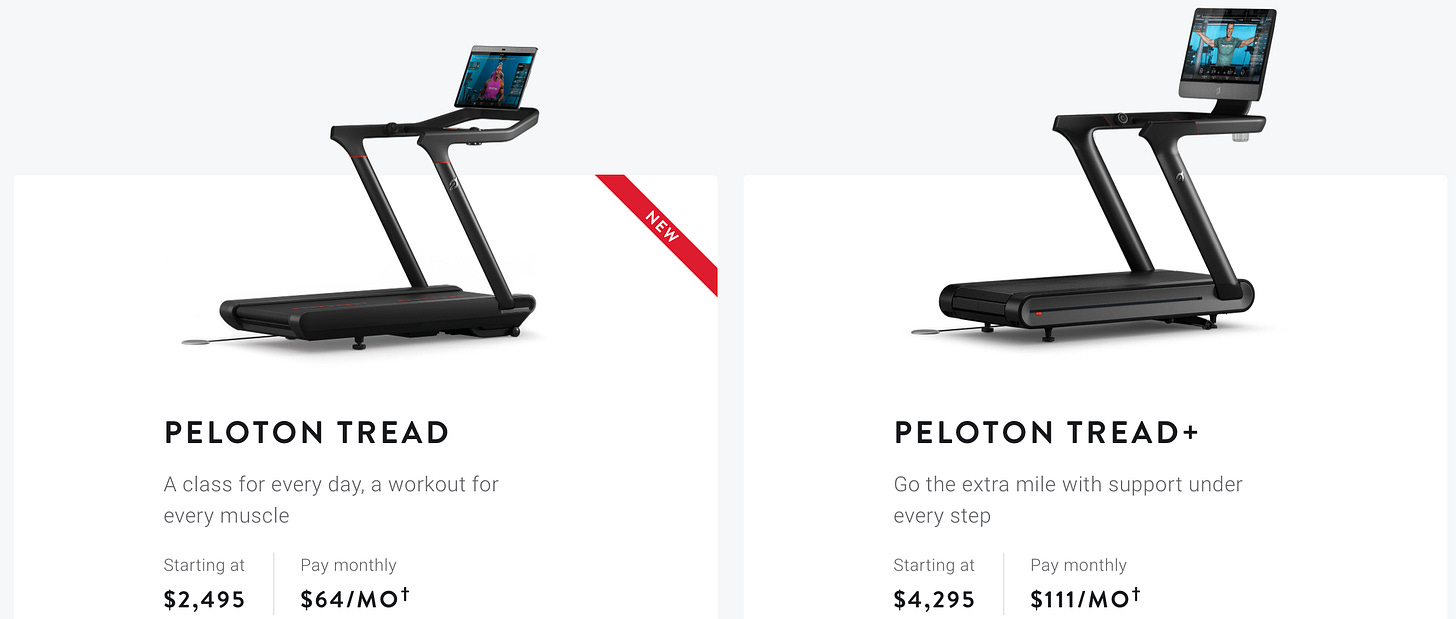 (📸 / Peloton)
Along with physical bike & treadmill options, consumers can also buy add-ons like shoes and head-phones.
From a revenue perspective — about 75% of Peloton's revenue comes from its physical products, which has grown from $218 million in 2017 to over $1.8 billion in 2020.
Perhaps even more impressive, Peloton is able to maintain profit margins of 43% on their physical products.
Subscriptions
In addition to hardware, Peloton customers can subscribe to exclusive workout content streamed directly to their monitor or OTT at-home provider.
Peloton has two subscription options:
Connected Fitness Subscribers - Users pay $39/month to sync workout classes directly to their Peloton equipment.

Digital Subscriptions - Users pay $12.99/month to access the programs separately through a phone or tablet. 
Both are important, but investors tend to track the connected fitness subscriber base more closely, as it is inherently intertwined with overall hardware sales of the business. In simple terms, connected fitness subscribers also have a bike or treadmill, which makes their subscription more important from a pure financial perspective.
Peloton currently has north of 3 million subscribers, with over 1 million being connected fitness subscribers — a 113% increase year over year and a number they expect to double in 2021.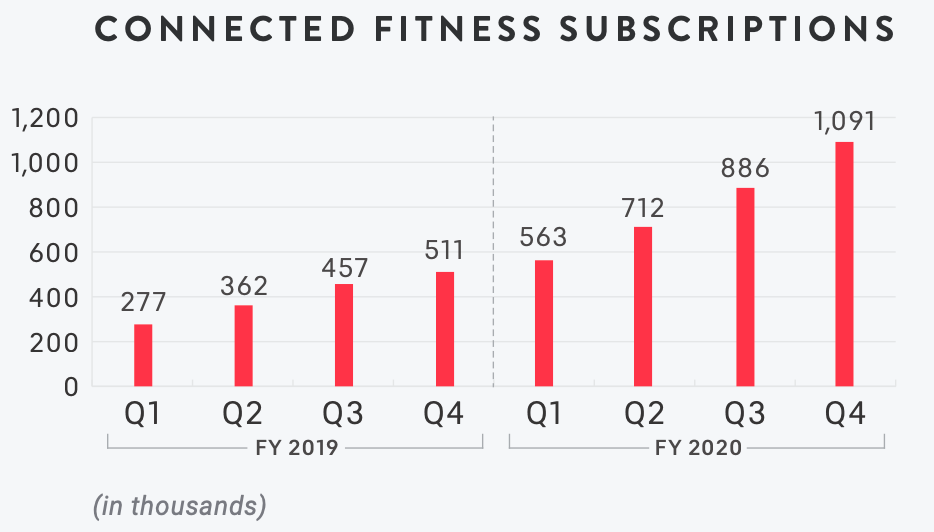 Interestingly enough, Peloton's subscriber business has a profit margin similar to the 43% seen on their physical products.
Why so low for a subscription product?
Peloton doesn't offer an exact breakdown on their cost structure, but it's believed to be heavily impacted by costs related to production, research & development, marketing and instructor salaries.
Apparel
Peloton also sells fitness clothing under its Peloton Apparel brand, which includes t-shirts and leggings but also accessories like gym bags and hats.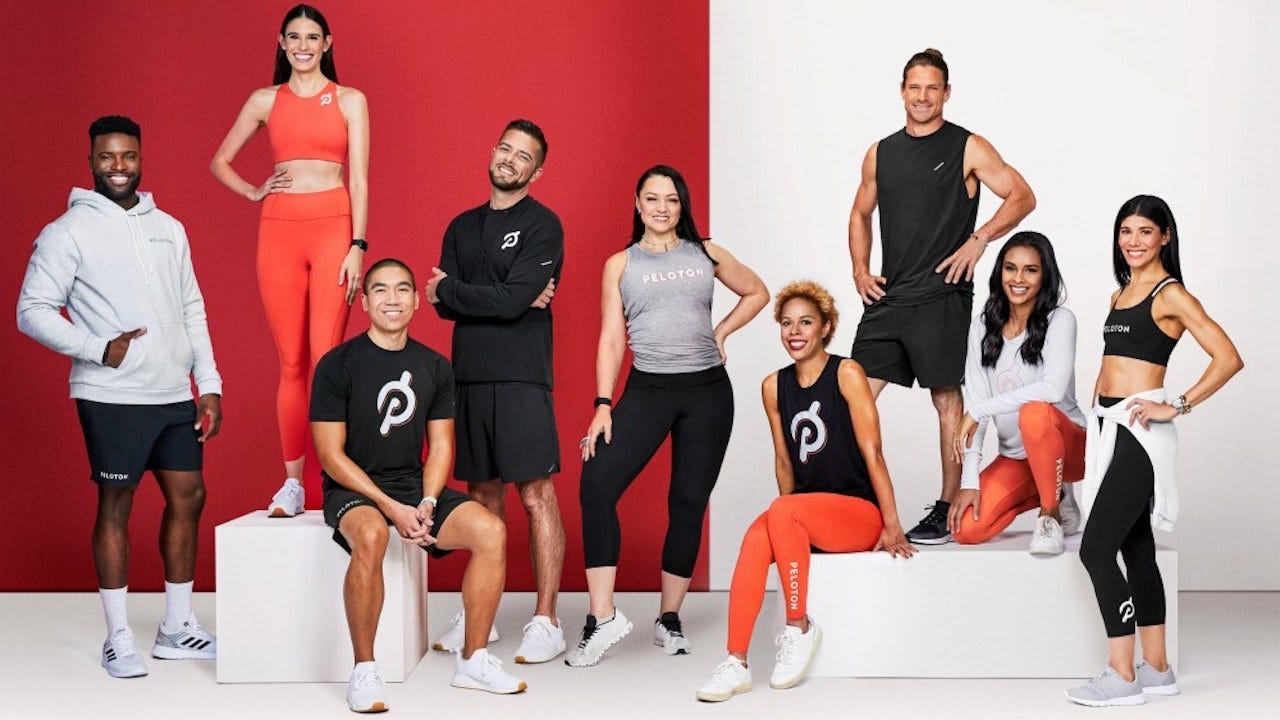 (📸 / Peloton)
The apparel part of their business is considered to be small, less than 1-2% of their overall revenue, but recent partnerships with Gap, Hill City, Lululemon and Athleta have created a surge in revenue — sales of the apparel category are up from 2 million in 2017 to over 20 million in 2020.
Ok great, so the revenue breakdown is helpful — but what makes me so excited about the long-term potential of Peloton?
Let me explain through a few charts.
Two-A-Days
This is what I wrote last month regarding Peloton's surge in workouts per month:
On a per subscriber basis, the average Peloton user is working out almost 25x per month. That is a mind-blowing statistic, and on a year over year basis, it means users are doing 2x as many workouts per month on their Peloton device as they were last year.

What led such drastic growth?

The pandemic obviously assisted, but Peloton has also spent the last year adding additional features like strength workouts, boot camp, yoga, and more. Ultimately, these numbers show that Peloton has made the transition from a "2-3x a week" workout novelty item, to full-on cult status. 

As people continue to talk about increased competition for Peloton, don't forget, addictions are hard to break.

Which brings me to my next point — Diversification.
Product & Class Diversification
As Peloton continues to prove it should be valued more like Apple & Tesla, than a pure at-home fitness play, diversification has played a large part.
They've spent the last few years creating content and increasing adoption of strength, floor, running and yoga classes — which further signifies their ability to diversify outside their traditional hardware expertise and expand their total addressable market.
For example, in 2017 almost 95% of their total workouts consisted of cycling — that number is now a much more modest 64%.
Sticky Retention & Limited Churn
From a retention and churn perspective, Peloton is simply incredible.
Here are two impressive numbers:
Peloton has averaged a 0.64% net monthly customer churn since 2017.

Over 90% of Peloton connected fitness subscribers keep their membership for 12 months or greater, a number that is closer to 60% for traditional gyms.
The significant hardware investment plays a large part in that, but that's the point — Peloton has an impressive and unique ability to funnel down initial hardware purchases into multi-year subscription agreements.
Point being — once a customer buys the bike or treadmill, they aren't leaving.

Peloton's Affordability
With their equipment historically priced at $2,000 or higher, product price has long been Peloton's greatest growth challenge. Simply put — with 70% of U.S. households having less than $100,000 in annual income, not all consumers can afford it.
That's changing though — through the addition of a lower priced offering and expanding their financing program to offer lower monthly rates, Peloton has drastically changed the profile of their hardware customer.
For example, almost 50% of bikes sold in 2020 were purchased by households with less than $100,000 in income — a number that was closer to 30% in 2014.
Here's the breakdown: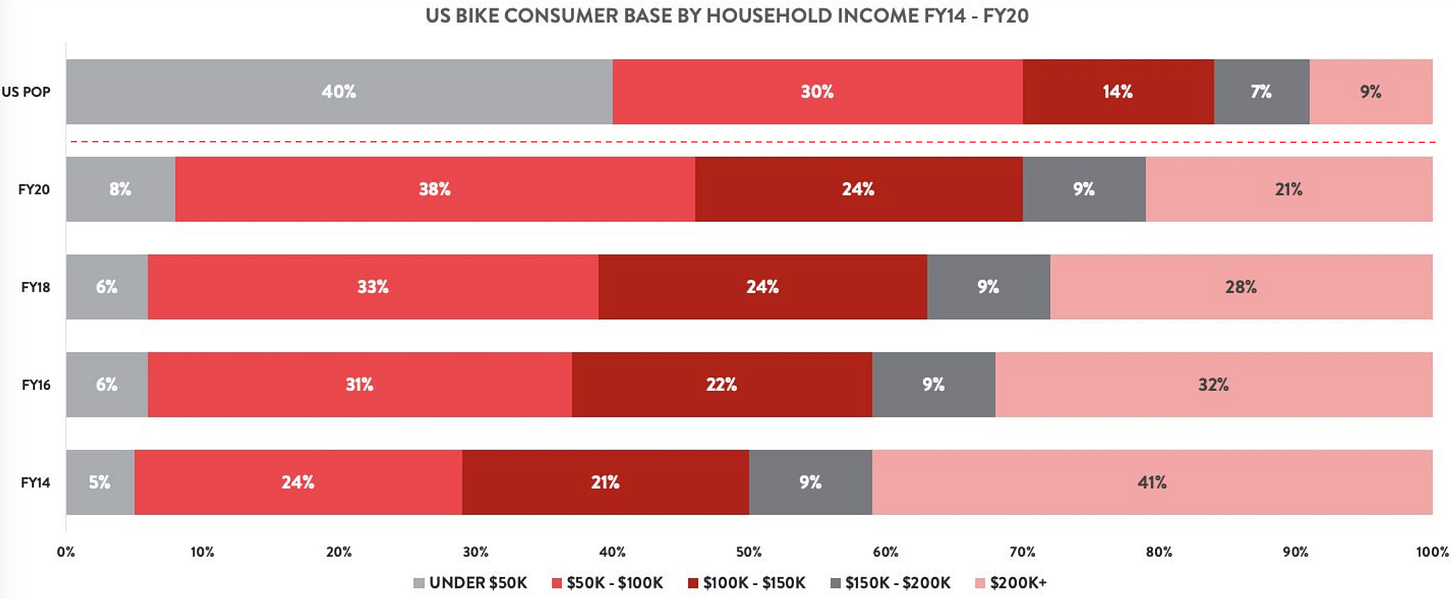 Investment In Infrastructure
One of the most common knocks against Peloton is their inability to deliver product and service customers in a timely manner.
So what' their plan to fix it?
In addition to expanding throughout countries like Germany and Russia, Peloton is building out an impressive collection of distribution centers in the United States.
Within the next 1-2 years, Peloton expects to have the ability to service ~95% of the US population within 24-48 hours.
Keep in mind, the ability to setup distribution centers within a certain distance of the majority of the U.S. population is something Jeff Bezos has historically referred to as a "significant advantage" for Amazon.
It will be for Peloton as well.

Social Dominance
As interpersonal relationships across the world continue to take on a more digital approach, Peloton has a significant advantage.
Not only do they get organic advertising by turning their instructors into celebrities, which creates a win-win relationship, they have also built out a unique social sharing system within their community.
Simply put — Peloton members are proud of their community, tell others about it, and provide a consistent customer feedback loop through social.
You can check out some of their social stats from FY20 below: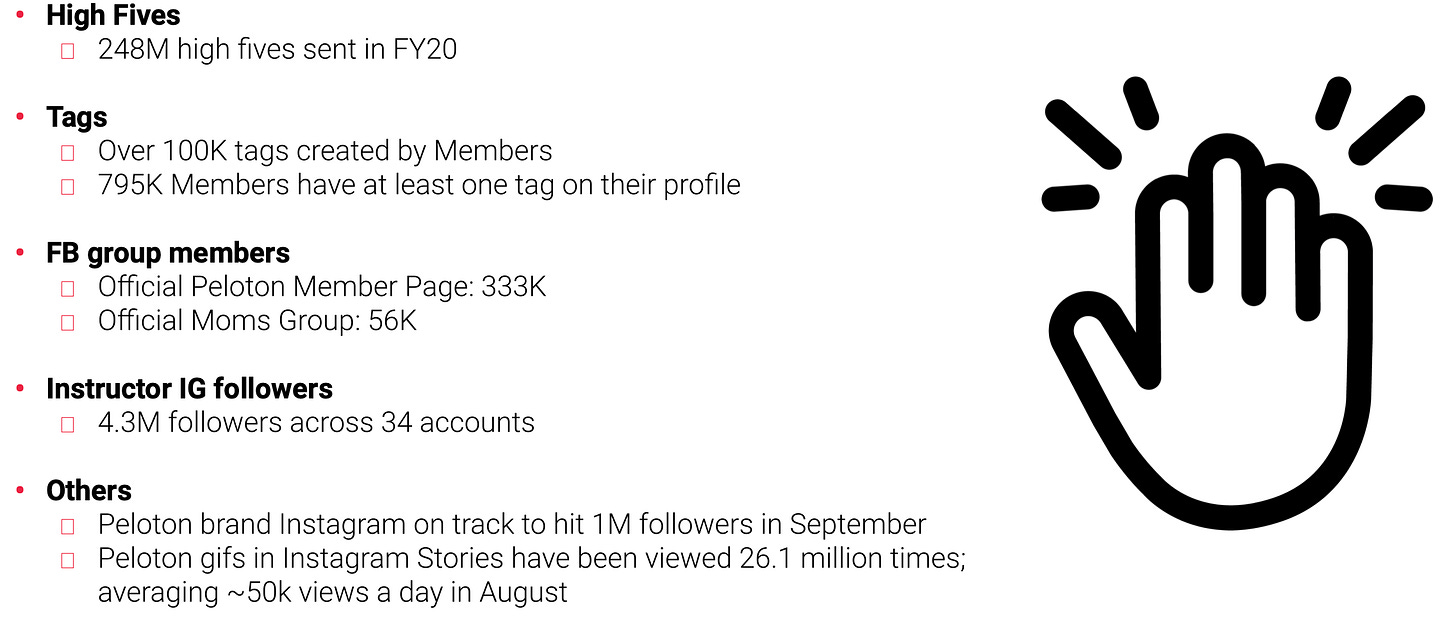 In the end, Peloton has seen a decade worth of digital fitness consolidation occur within the last 6 month. Sales have exploded and their stock price has responded accordingly, causing some to question whether their growth is sustainable — but is that their fault?
I certainly don't think so.
Sure — their revenue might plateau and average monthly workouts will undoubtedly decline as we return to normalcy, but digital fitness is here to stay.
In a world with 160 million active gym memberships, Peloton's 3 million subscribers represents both substantial progress and a significant opportunity for growth.
P.S. — John Foley, Peloton's Founder & CEO, says their goal is to reach 100 million subscribers within the next 10-20 years.
Most of this information was pulled from their investor presentation here, which I suggest you read if interested. The presentation is long but does an excellent job walking you through their long-term vision via tangible data points.
If you enjoyed today's email, subscribe now to receive future emails directly in your inbox.
---
This Newsletter Is Brought To You By…

Don't sacrifice your ability to be healthy, active, and at your best to enjoy a great beer - Athletic Brewing has created an innovative lineup of refreshing, non-alcoholic craft beers. At Athletic Brewing, they're all about re-imagining beer for the modern adult.
With Athletic beers, you can have the full relaxing ritual of drinking a great beer to wind down the day, with your dinner, or day drinking, without derailing the rest of your day or week.
Looking for a great beer for Sunday through Thursday nights? Athletic's got you covered.
Give them a try - use "JOE25" for 25% off your first order at athleticbrewing.com.