Discover more from Huddle Up
A 3x weekly newsletter breaking down the business and money behind sports. Join 100,000+ subscribers.
Over 118,000 subscribers
The Athlete That Gave Up Millions To Build A Sports Media Empire
The future of sports media and the value proposition of influencer personalities.
Every morning I write an email discussing the business and money behind sports. If you would like to receive it directly in your inbox, subscribe now.
Friends,
Pat McAfee shocked the sports world when he announced his decision to retire from the NFL at age 29 and join Barstool Sports in February 2017. McAfee was mocked and ridiculed by the fans and media alike, but ultimately his decision was forward-thinking and genius. Let's discuss…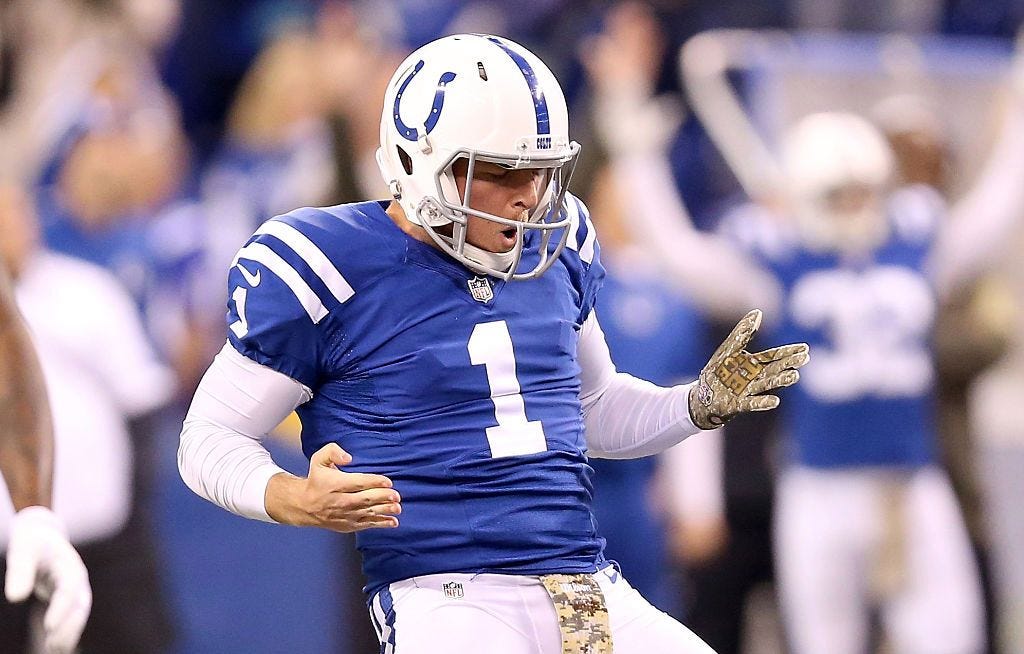 People have quickly forgotten how unpopular McAfee's decision was with NFL fans and the traditional sports media outlets. This short term memory lapse is most likely driven by the rapid shift in the sports media landscape, but here is a direct quote from Pat about the difficulty he had transitioning from a starting NFL punter to media personality:
"I interviewed Adam Schefter and I asked him, what's one piece of advice you'd give somebody trying to get into the sports media world? He said "do absolutely anything you can to get in the door"..

As many of you know, I have to be the only player in the history of the NFL, who has been named player of the decade at your position, have over 700,000 followers (at the time), have completed a full standup comedy tour, hosted your own show, and have ZERO networks interested upon retirement."
McAfee got so much hate but was so confident in his decision, that he saved the receipts. Here is one Twitter users response that he commonly references:

In the shortest way possible, the deal ended up working out great for McAfee and Barstool Sports. McAfee was able to utilize the Barstool brand to build up his personal audience and Barstool strengthened their prime 20-35 year old demographic by flooding their timelines with McAfee's humor via podcast and video clips.
Less than two years later, McAfee had left Barstool Sports and started his own show - The Pat McAfee Show. It's been so successful that in July, FanDuel became "the exclusive sports betting, daily fantasy sports, casino, and horse racing provider of The Pat McAfee Show" (Source). It's estimated that McAfee made about $15M throughout his 8-year NFL career. That's a lot of money, but I think he'll end up doing even better in "retirement".
Since McAfee's announcement, the influencer acquisition trend has only gotten stronger. Just yesterday, NBA media personality Rob "WorldWideWob" Perez inked an employment contract with FanDuel.
Given it's working with McAfee, FanDuel is essentially just doubling down on their strategy. They've added another influencer, who's specialty is in a different sport than McAfee, to infiltrate a different sports audience. It's genius, and it'll work because in the new age of media, audience is the new currency.
Both the talent and brand benefit from these deals. The talent gets paid, obviously, but they also get to establish greater credibility and extract social capital from a large brand. The sponsor benefits by adding an immediate audience in a target demographic that's an authority people will listen to.
In FanDuel's case, the monetary benefit can be measured. By adding influencers like McAfee and Perez, they are able to integrate their sports betting initiatives through the personalities to drive customer acquisition cost down and customer lifetime value up. In simple terms, they get McAfee/Perez fans to join FanDuel for less money than it would cost through traditional marketing methods and they stay for longer, spending more money with FanDuel, because the influencer is constantly reinforcing the brands presence.
In the future, people will subscribe to media personalities, not media outlets. Whether it's original content or curation, people want to weed out the noise and improve their content diet through individuals they trust. The transition is obvious and every journalist, broadcaster, and media employee that isn't building out their personal brand is wasting valuable time.
If you enjoyed today's email, subscribe now to receive future emails directly in your inbox.
Extra Credit
Today's extra credit is Pat McAfee announcing his exclusive partnership with FanDuel. Aside from the humor, it gives a pretty good 4-minute rundown on who McAfee is, how he got here, and where he is headed.
Best part of the video? McAfee, referencing advice he got from Dan Patrick to take care of his crew, surprises each of his producers with $50,000 cash in a backpack. Their reactions are priceless.
Want To Submit A Topic? 
As we continue to get inbound request regarding specific topics, we'd like to create a streamlined process. Please use the form below to submit potential topics for Huddle Up to write about. If we select your topic, we'll give you a shoutout!