Discover more from Huddle Up
A 3x weekly newsletter breaking down the business and money behind sports. Join 100,000+ subscribers.
Over 119,000 subscribers
The Family Feud That Led To Multiple Billion Dollar Businesses
How a fight between brothers created two of the largest athletic shoe and clothing manufacturing companies in the world.
Every morning I write an email discussing the business and money behind sports. If you would like to receive it directly in your inbox, subscribe now.
Friends,
Today we'll be taking a look at the story of Adolf and Rudolf Dassler, the German brothers whose disagreement led to the founding of two multi-billion dollar shoe manufacturing businesses - Adidas and Puma.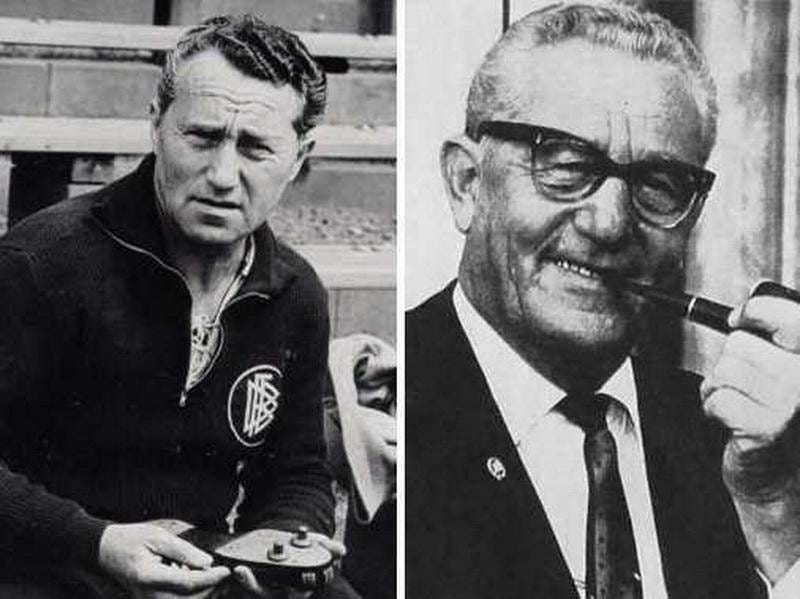 The Origin
In 1924 , German brothers Adolf and Rudolf Dassler started a shoe company, Gebrüder Dassler Schuhfabrik (Dassler Brothers Shoe Factory) in their mother's laundry room. Adolf ("Adi") Dassler was a quiet craftsman who designed and made the shoes, complemented by his older brother Rudolph ("Rudi"), who was the extroverted salesman. Sales started off strong with the brothers being the sole manufacturer of athletic shoes within Germany, but they got even better with Adolf's revolutionary invention of the screw-in spikes.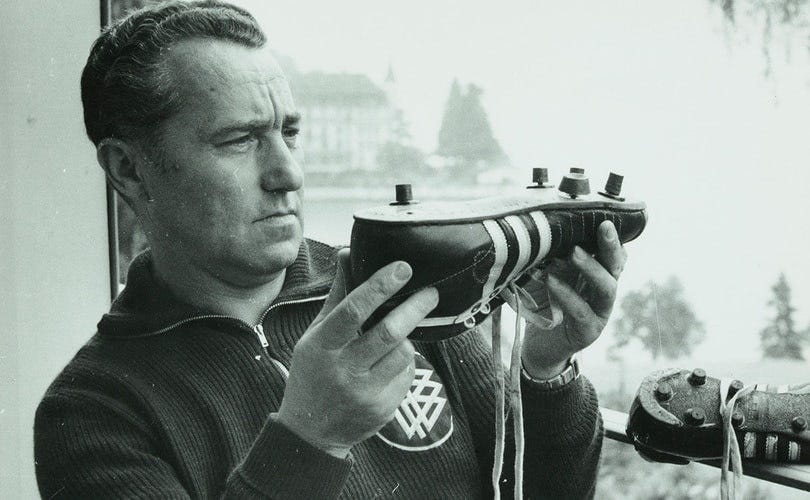 The brothers big break came at the 1936 Summer Olympics in Berlin when Adolf approached American sprinter Jesse Owens, unpacked a suitcase filled with spikes, and persuaded him to run with a pair. Owens ended up winning 4 gold medals, while other athletes whom the company outfitted took home an additional 3 gold, 5 silver and a bronze. Dassler shoes became an overnight international success with sales exploding to 200,000 pairs a year and growing before the outbreak of WWII (Source).
The Relationship Cracks
It was during WWII and shortly after, that the relationship between the brothers and their wives began to falter. The exact cause is unknown but rumors range from stealing to resentment, and even affairs.
The most popular theory is that a rift between the brothers reached a breaking point during a 1943 Allied bomb attack. Adolf, and his wife, climbed into a bomb shelter that Rudolf and his family already occupied. "Here are the bloody bastards again", Adolf yelled, apparently referring to the Allied war planes. But Rudolf, due to his apparent insecurity, was convinced his brother meant him and his family.
Later on Rudolf was picked up by American Soldiers accusing him of being a member of the Waffen SS, the military branch of the Nazi Party organization. Although impossible to prove, Rudolf was certain that his brother had turned him in.
Starting Fresh
By 1948, the brothers had broken up Dassler Shoe Factory and each setup their own shop on opposite sides of the Aurach river. Adolf named his new company "Adi-das" as a combination of his first and last name. Rudolf tried a similar concept with 'Ruda', but ultimately settled on 'Puma'.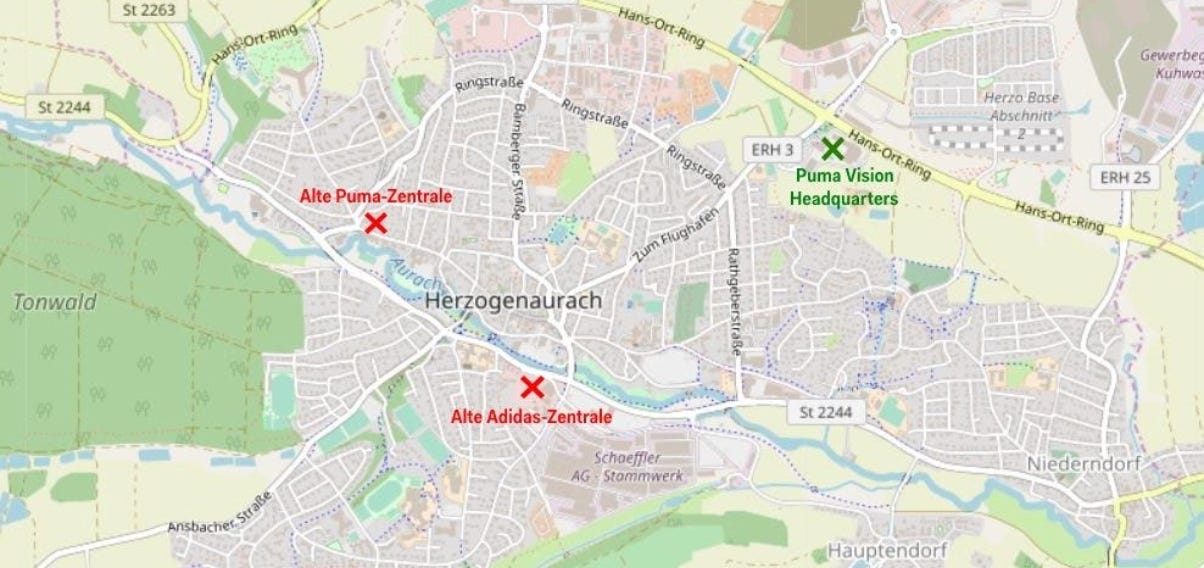 As time went on, the personal rivalry between Adolf and Rudolf only deepened, fueling a fight for international footwear supremacy. Even the citizens of their small town, Herzogenaurach, took brand loyalty to new levels. Shopkeepers like butchers and barbers would favor a particular company and not allowed customers wearing the other brand in their shop - a tradition that still exists today.
Where are we now?
There is no doubt about it, Nike is the global athletic shoe and clothing manufacturing leader. More surprising is the gap that Adidas has been able to build over rival Puma, through strategic athlete & influencer partnerships. For instance, the Adidas "Yeezy" partnership with rapper Kanye West did ~$1.3B in sales in 2018, almost equaling a quarter of Puma's 4.65B euros of global revenue that year.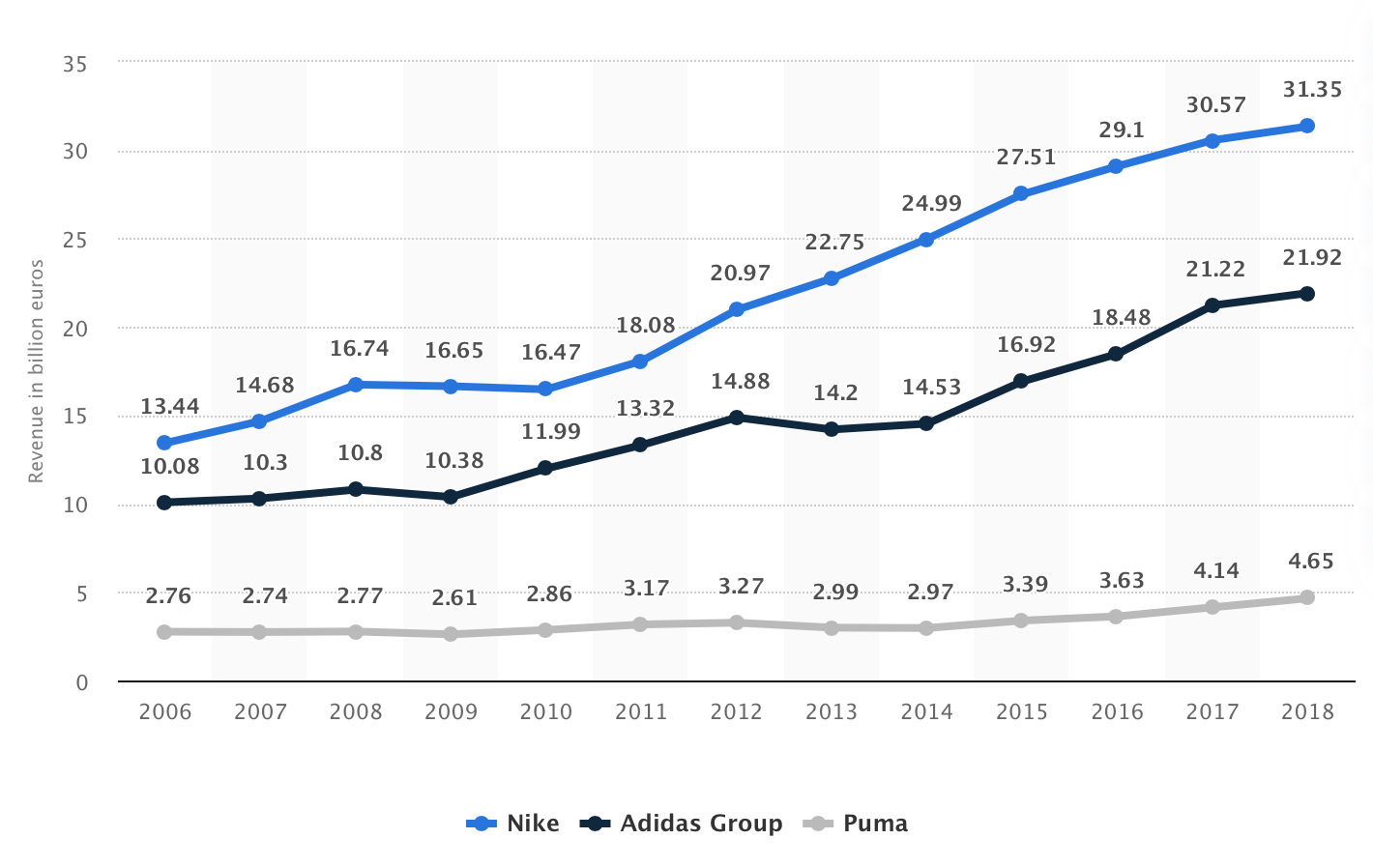 If you enjoyed today's email, subscribe now to receive future emails directly in your inbox.
Extra Credit
Jesse Owens won gold in the 100m, 200m, 4x100m and Long Jump at the Berlin 1936 Olympic Games - all in front of the watching Adolf Hitler.
For the sports historians out there, here is a short video recapping his remarkable performance. It's particularly interesting to consider how much olympic athletes have evolved over the last ~80 years.
Want To Submit A Topic? 
As we continue to get inbound request regarding specific topics, we'd like to create a streamlined process. Please use the form below to submit potential topics for Huddle Up to write about. If we select your topic, we'll give you a shoutout!