Discover more from Huddle Up
A 3x weekly newsletter breaking down the business and money behind sports. Join 100,000+ subscribers.
Over 118,000 subscribers
The Fitness Company Everyone Laughed At, But Now Wants A Piece Of
A detailed breakdown of the hottest company in fitness, including sector trends and revenue forecasts.
Every morning I write an email discussing the business and money behind sports. If you would like to receive it directly in your inbox, subscribe now.
Friends,
Peloton, a fitness equipment and media company, reported earnings yesterday after the close and they absolutely crushed it.
Here's a high level overview of the financials (Source):
Peloton reported $607.1 million in sales, up from $223.3 million a year earlier

Earnings per share came in at 27 cents vs. expectations of 10 cents

Peloton reported a profit of $89.1 million, compared to a loss of $47.4 million a year earlier.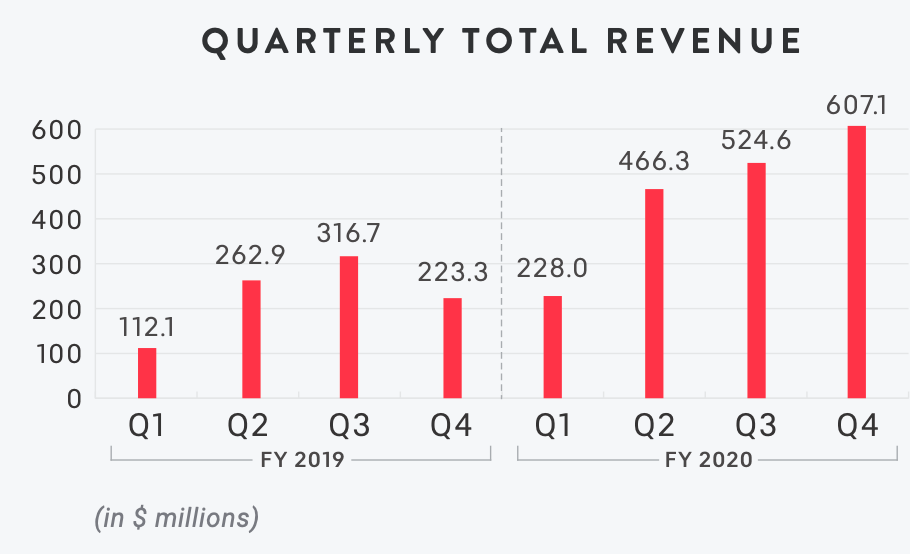 If you want more financial highlights and 2021 guidance, this slide is taken straight from Peloton's investor deck: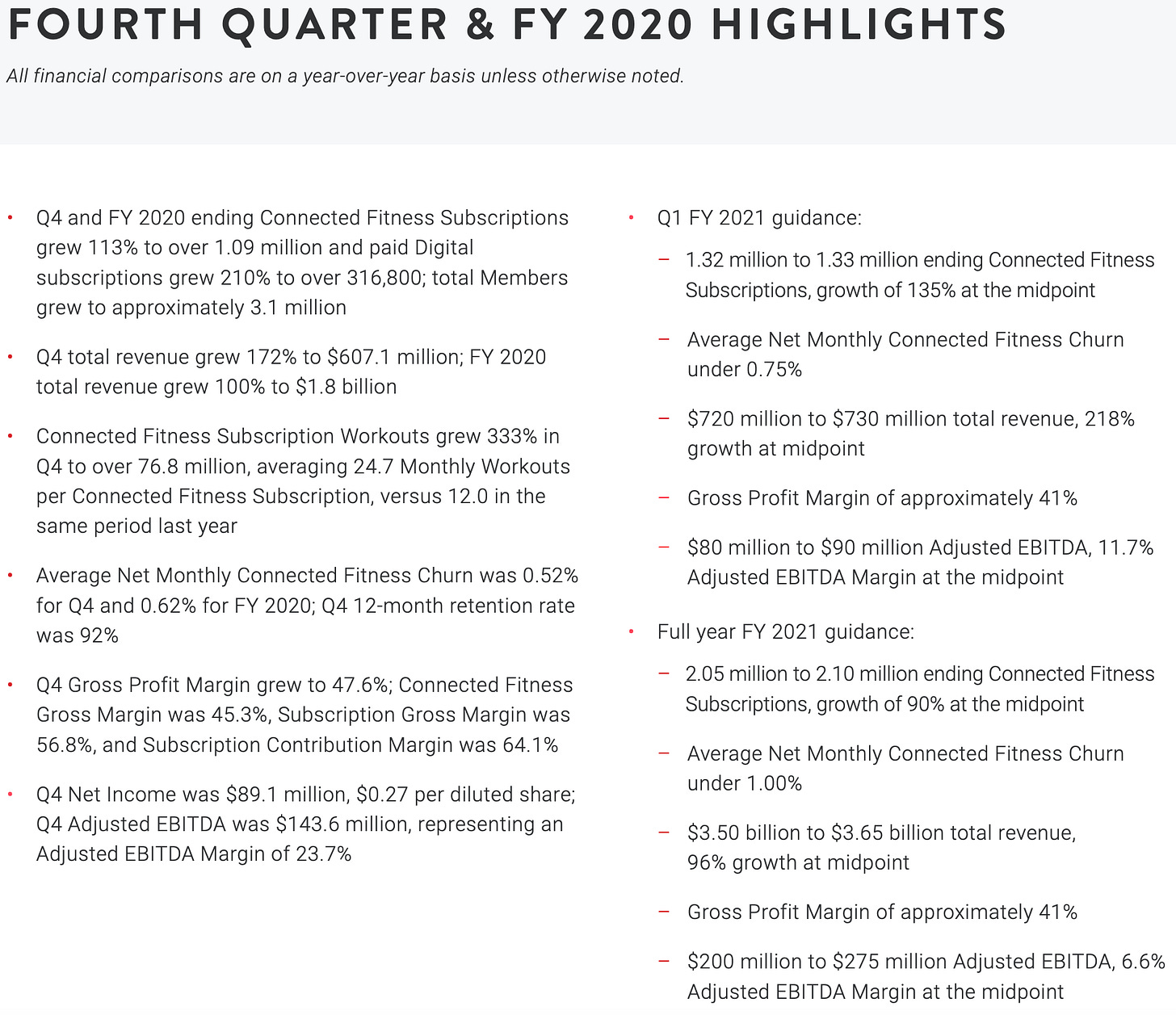 Sounds great, but how did the equity market react to Peloton's earnings?
The stock is set to open at an all-time high, up 11% pre-market, and over 225% on a 1-year basis.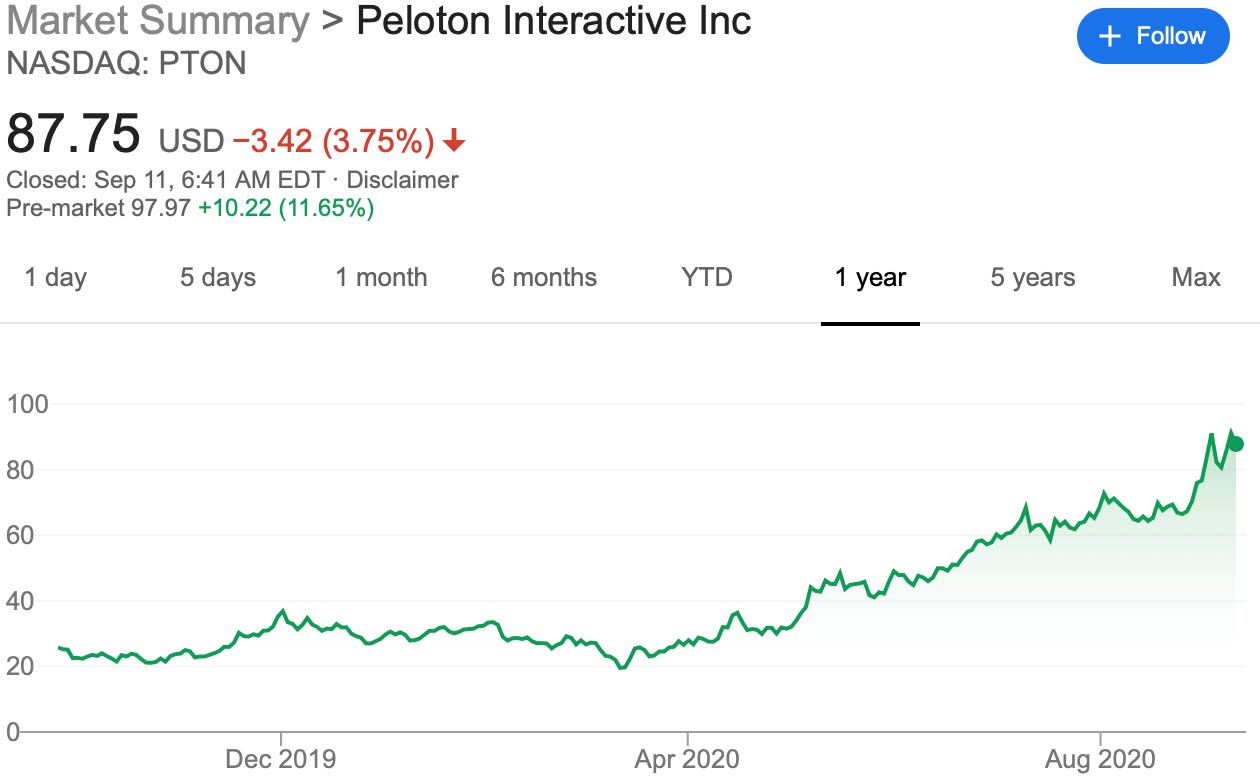 Before we get into it, let me clarify. I'm not an equity analyst, and it would be foolish to buy stocks based on my opinion alone, but here are a few things I thought were interesting :)
Two-A-Days
On a per subscriber basis, the average Peloton user is working out almost 25x per month. That is a mind-blowing statistic, and on a year over year basis, it means users are doing 2x as many workouts per month on their Peloton device as they were last year.
What led such drastic growth?
The pandemic obviously assisted, but Peloton has also spent the last year adding additional features like strength workouts, boot camp, yoga, and more. Ultimately, these numbers show that Peloton has made the transition from a "2-3x a week" workout novelty item, to full-on cult status.
As people continue to talk about increased competition for Peloton, don't forget, addictions are hard to break.

Connected Fitness Subscriber Growth
Peloton has two types of subscription options:
Connected Fitness Subscribers - Users pay $39/month to sync workout classes directly to their Peloton equipment.

Digital Subscriptions - Users pay $12.99/month to access the programs separately through a phone or tablet.
Both are important, but financial analysts tend to track the connected fitness subscriber base more closely, as it is inherently intertwined with overall hardware sales of the business. In simple terms, connected fitness subscribers also have a bike or treadmill, which makes their subscription more important from a pure financial perspective.
Between connected and digital subscriptions, Peloton reported over 3M subscribers yesterday. On the connected subscription side, Peloton announced they have reached over 1M subscriptions. This represents a 113% increase year over year - from a traditionally slower growing segment of their business.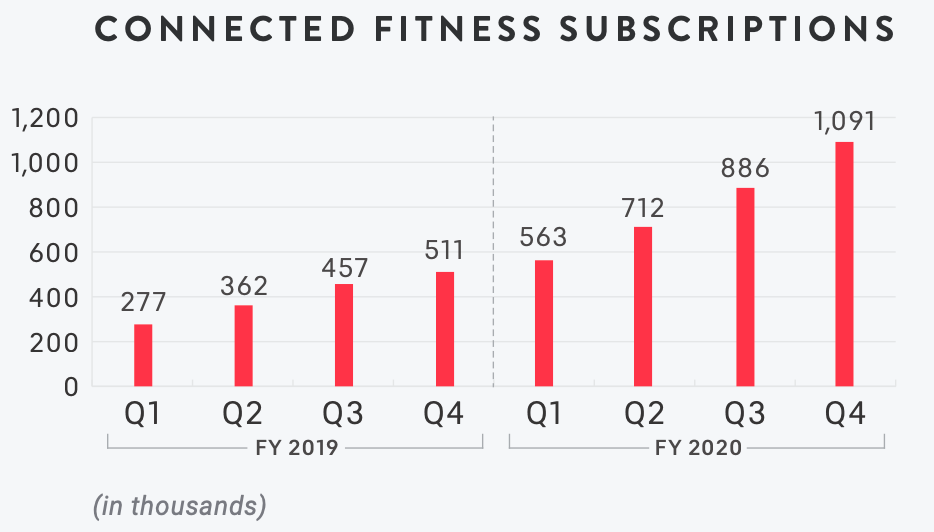 Perhaps even more amazing?
Peloton expects their connected subscriber base to reach nearly 1 million net adds in 2021, compared to net adds of 580k in FY2020 and 265k in FY2019.
Peloton's (Lack Of) Marketing Spend
Check out this quote below, it's pulled directly from Peloton's investor deck:
"Sales and marketing expense was $84.2 million in Q4, and grew 8% year-over-year, representing 14% of total revenue versus the prior year period of 35%. Given the robust organic demand due to COVID-19 and strong brand awareness, we continued to pause the majority of our media spend through the end of the quarter."
Why does it matter?
Peloton just announced explosive growth, and they're essentially saying that demand is so high right now, that they have continued to flatline their marketing spend. In the end, it's always good to see revenue going up and expenses coming down.
The Customer Is Always Right
Earlier this week Peloton announced the addition of two new fitness equipment options.
Peloton introduced a new bike, Peloton+, which will retail at a $250 premium to the current bike ($2,495). In return, Peloton dropped the price on their existing bike by $350 ($2,245 --> $1,895).

Peloton also introduced a new treadmill option, which retails at $2,495 - a 42% discount to their existing treadmill option ($4,295).
The addition of new products aside, which can certainly help with continued fiscal growth, Peloton got attention for their compassionate approach with customers.
Peloton proactively emailed all individuals that purchased a bike within the last 30 days, automatically offering them a $350 refund to match the new price.
Here's a screenshot of the email: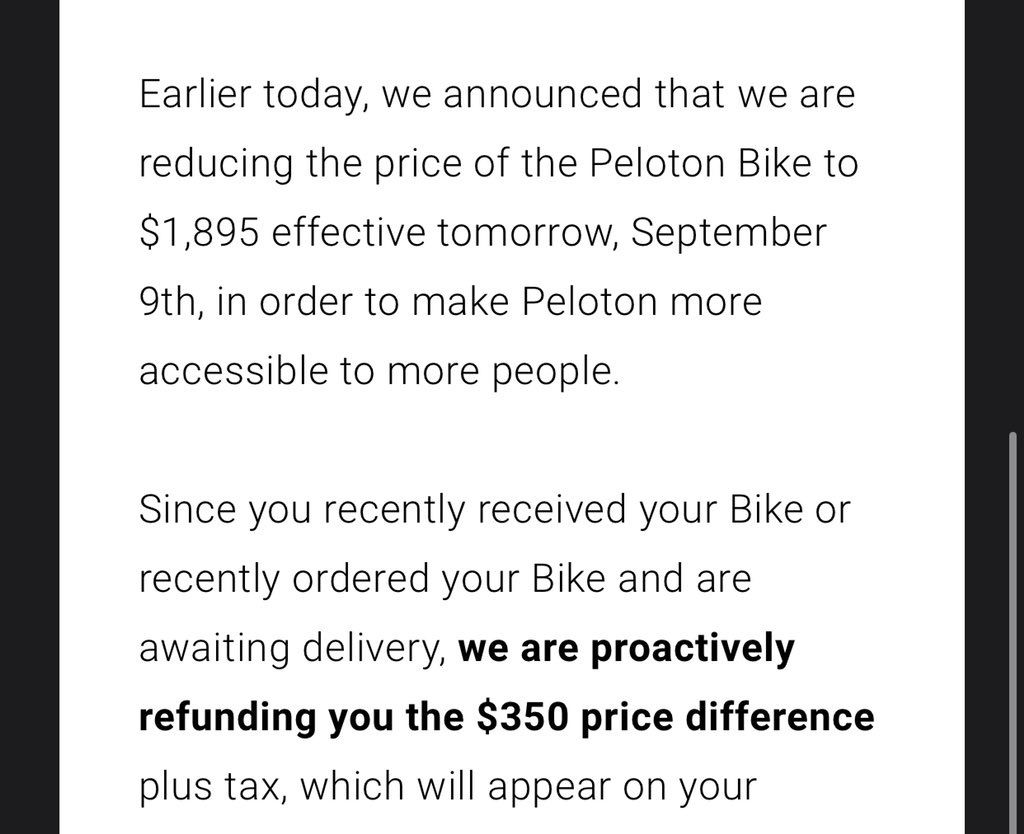 When it comes to customer service, I always think back to this Jeff Bezos quote from 1999 (Source):
"If there is one thing Amazon is about, it's obsessive attention to the customer experience, end-to-end." Bezos continues, "In the long term, there is never any misalignment between customer interest and shareholder interest."
Regardless of whether you think a comparison between Peloton and Amazon is warranted, the conclusion remains the same. The best companies in the world consistently put the interest and desires of customers ahead of their own, because in the end, they tend to match up anyways.
Have a great weekend, and we'll talk Monday.
If you enjoyed today's email, subscribe now to receive future emails directly in your inbox.
Want To Submit A Topic? 
As we continue to get inbound request regarding specific topics, we'd like to create a streamlined process. Please use the form below to submit potential topics for Huddle Up to write about. If we select your topic, we'll give you a shoutout!