Discover more from Huddle Up
A 3x weekly newsletter breaking down the business and money behind sports. Join 100,000+ subscribers.
Over 118,000 subscribers
Here's Why More Fans Attended MLB Games In 1998 Than In 2019
The numbers behind Major League Baseball's decline in attendance
Every morning I write an email discussing the business and money behind sports. If you would like to receive it directly in your inbox, subscribe now.
Friends,
Today's article, "Seats of Gold" by Wright Thompson of ESPN, takes a deeper look into how the new Yankee Stadium prices out the casual fan and caters to the elite. This article is fantastic and one of my all-time favorites.
Luxury Over Loyalty
Since the "House that Ruth built" was torn down and replaced in 2009, the Yankees loyal fan base has grown increasingly frustrated with their desire to cater to NY's elite. The casual fan has been priced out of attendance and newly introduced "legends" seats sell for $1200+, but are routinely empty during the regular season (see above). Through a great combination of humor and perspective, Thompson spares no expense to take you through a game day experience of the best seats in New York.
Continuing Decline In MLB Attendance
In 2019, Major League Baseball saw their fourth consecutive year of decline in league-wide attendance with a total of 68.5 million fans attending games in-person (-1.6% vs PY). With stadiums being built bigger than ever, the MLB is growing increasingly concerned with their drop in attendance. For reference, the 68.5 million fans that visited ballparks in 2019 was a -2.6% drop in attendance from 1998.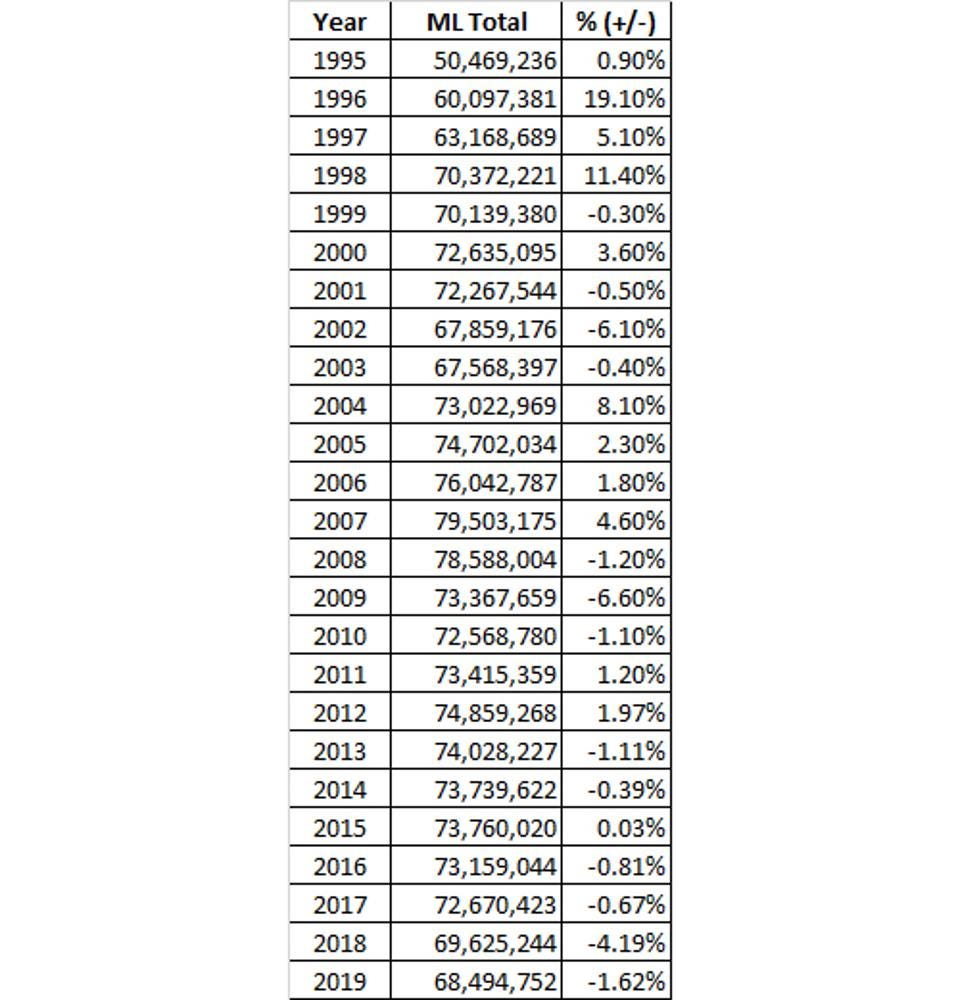 Factors Affecting Attendance
There are a number of factors affecting Major League Baseball attendance including slow speed of play, cost to attend, and the increased emergence of the secondary ticket market.
Speed Of Play
With today's average MLB game taking over 3 hours to complete, the total time needed to attend a baseball game has steadily risen since the early 1900's. To increase the pace of play, Commissioner Rob Manfred has introduced a number of rule changes the last few years (Source):
Mound visits will be limited to six per team per nine innings. Teams will receive an additional visit for every extra inning played.

At the 25-second mark of the intra-inning clock, the umpire will signal for the final warmup pitch and the pitcher must throw it before the clock hits 20. The batter will be announced at the 20-second mark and the pitcher must begin his windup to throw the first pitch of the inning within the five seconds before the clock hits zero.

All club video review rooms will now receive direct slow-motion camera angles to speed up challenges and the resulting review.
Cost To Attend
Major League Baseball intentionally prices tickets lower than the other major North American sports (NFL, MLB, & NHL) on the premise that you will attend multiple games within a season - but with the cost to attend steadily increasing each year, that has become less likely for most families.
The Forbes Fan Cost Index (FCI) analyzes the typical cost a family of four can expect to pay when attending an MLB game, including things such as tickets, parking and concessions. The average cost in 2019 was $234.38, a 12% increase from 2015.

The most expensive stadiums to attend? The Chicago Cubs and Boston Red Sox will each cost you over $350 for a family of four. On the bright side, your family can attend a Tampa Bay Rays or Arizona Diamondbacks game for $160 or less on average.
Secondary Ticket Market
Commissioner Rob Manfred has publicly stated that the area of attendance they are most concerned with is the decline in season ticket holders throughout the league. The issue is that while the MLB has worked in unison with ticket brokers like Stubhub to make the secondary market a smoother process, it has begun to cannibalize their long-standing season ticket business. Essentially a person is faced with the decision to put up a sizable investment up-front, or pick and choose which games they want to attend, wait until the last minute, and hope to grab tickets on the cheap.
It's Not All Bad News
Even with attendance hovering at pre-2000 levels, overall league revenue has continued to increase, albeit slowly, with an uptick in TV, sponsorship, and merchandising revenue. And when fans do attend games? They are spending more - even with attendance down, overall gate revenue was up last year.
If you enjoyed today's email, subscribe now to receive future emails directly in your inbox.
Extra Credit
Speaking of the Yankees (and expensive seats) - Jesse Itzler, founder of Marquis Jet and minority owner of the Atlanta Hawks, provided this amazing story on taking risk and building his business.
THE COME UP: BET ON YOURSELF.
Reminiscing....
When I started Alphabet City Records I was 24 years old. I was creating theme songs for pro sports teams and my partner and I went to pitch the NY Yankees. As we were leaving the meeting the CMO said "Hey, we have 4 tickets for sale that just opened up in the front row. Want to buy them?"
He explained that these seats were specially added to the floor plan for the commissioner/sponsors and built directly onto the field for the World Series. There were only 8 of them created on each side of the field and 4 seats just opened up.
I said "how much"? I don't recall the exact amount but I believe he said they were $320,000 for the season. What???? We had $45,000 in our entire business bank account at the time. And, my total net worth was probably less then $10k. NO, it was DEFINITELY less then 10k! However, I said "we'll take them". My partner and I argued for hours on this but I explained we had to take them for 2 reasons 1) Anyone could take a client to a good restaurant in New York, but there are only 32 of these seats in the world. I knew we'd make our money back 10x by giving these to clients and entertaining...it was like beach front real estate, and 2) these seats will NEVER be available again."Well take them". We borrowed the money for the down payment from a friend and financed the balance of the tickets forward.
It worked.
This photo is from Game 4 of the World Series...I took Jay Z and OG Juan to that game. We ended up splitting the seats with them for the next 8 years. We became friends.
When we started Marquis Jet years later Jay and Juan booked us to provide a plane for Jays whole tour!
One year after we bought these season tickets we closed the sale of our first company....in those seats. The buyer went to every game of the World Series that year 🤔
Those seats resulted in a 50x return on investment.
I AM NOT suggesting you go into debit over tickets....not at all...but I am suggesting that you bet on yourself.
#BeenThereBuiltThat
#TheGoodOldDays
CC:
@edlover
There's No I In Team
We want to build this community together. Tell us what you're loving, tell us what you want to see more of. And most importantly, when your buddy asks how you know about Major League Baseball's declining attendance, tell em' about us.