Discover more from Huddle Up
A 3x weekly newsletter breaking down the business and money behind sports. Join 100,000+ subscribers.
Over 118,000 subscribers
The Loopholes Top Prospects Are Using To Avoid The NCAA
How one NBA decision opened multiple doors for the top high school basketball prospects
Friends,
In 2006, the NBA and the players' union agreed to raise the minimum draft eligible age from 18 to 19 and required players be at least one year removed from high school, which barred the top high school prospects from skipping college entirely. Although they will claim alternative reasons, this was done for one simple purpose: NBA owners wanted an extra year to evaluate high school prospects against better competition before committing tens of millions of dollars to them. In my opinion, the creativity that spurned from that decision has left elite high school basketball players with more options than ever before.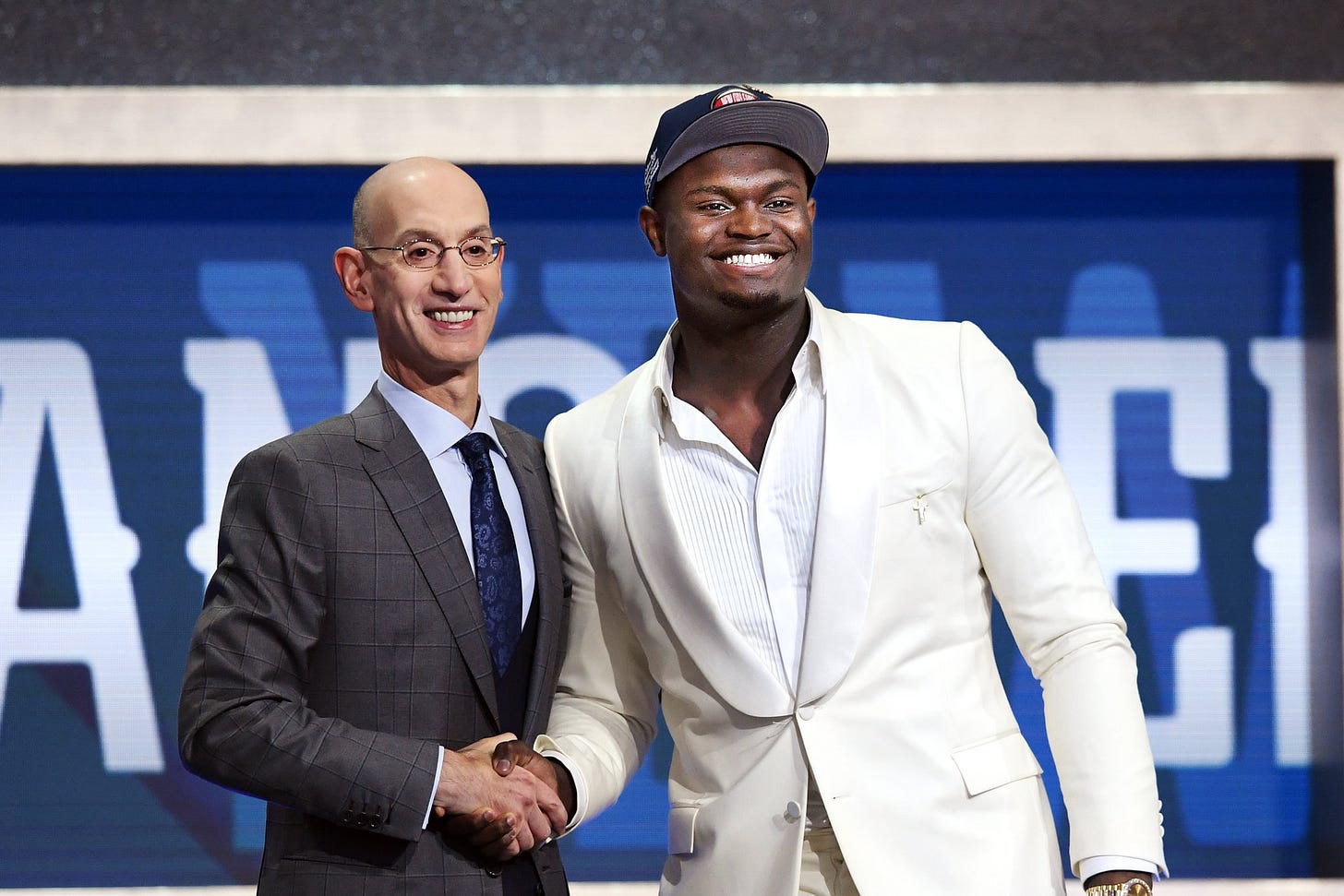 Playing Overseas
Brandon Jennings is the pioneer of transitioning from high school basketball to overseas competition. The top overall player in the 2008 class, Jennings left his Arizona commitment behind and headed to Lottomatica Roma in the Italian Serie A league. The experience was good for Jennings who signed a $1.65M contract with Roma and a $2M deal with Under Armor. He also didn't hurt his draft stock - after averaging 5.5 points per game, Jennings was taken 10th overall in the 2009 NBA Draft by the Milwaukee Bucks. We've seen other guys like Emmanuel Mudiay, and more recently, Rj Hampton and LaMelo Ball take the same route. It might not be for everyone, but it's certainly an option.
NBA Developmental League
Due to prospects like LaMelo Ball and RJ Hampton traveling around the world to continue their basketball development, the NBA has introduced the "NBA professional pathway program" - a G League initiative that will pay elite prospects $500,000 or more and provide a one-year developmental program outside of the minor league's traditional team structure. The program will include professional coaching, top prospects and veteran players who will train year round and hold competitive exhibitions against G League teams, foreign national teams and NBA academies throughout the world. Player salary structures are expected to include financial incentives for games played, completing community events and attending life skills programs coordinated by the G League. Given the NBA's push to fast track the league, we've seen top high school prospects like Jalen Green (No. 1 prospect in 2020) announce their decision to skip college and become a professional pathway participant.
Time Off
Another option for high school players looking for a college alternative is to simply take the year off. One prime example is New York Knicks player Mitchell Robinson, who dropped out of Western Kentucky to train all year for the NBA Draft instead. Robinson fell to the second round, signing a 3-year $4.7M contract, but had an impressive rookie season for the Knicks and should have a long career in front of him. We've also recently seen MarJon Beaucham, a 6'6 wing out of Seattle, announce he will spend his age 18 season partaking in a 12-month training program with Chameleon BX, a company founded by famous trainer Frank Matrisciano that includes strength and skill development work. Although you won't earn a playing salary through this route, a player would still be eligible to take endorsement money should they not care about their college eligibility.
Internship Program
Darius Bazley, originally a Syracuse commit, decided to forgo both college basketball and the G-league altogether - instead signing a five-year endorsement deal with New Balance, which included a $1M guarantee and could be worth as much as $14M over time. The most interesting part? Bazley brokered an arrangement where he would intern at the company's Boston headquarters from January to March 2019, in hopes that he would leave his one year hiatus not only with an improved draft stock but with job skills to match. Bazley was selected as the 23rd overall pick in the 2019 draft and currently plays for the Oklahoma City Thunder.
What did Bazley think of his New Balance internship? Hear it from him directly in this 3 minute behind the scenes look:
Where Do We Go From Here?
I'm not naive to the fact that the NBA took an option away and I'm claiming that players now have more options than ever before. My point is that although these options might have technically been available, they were never thought of as practical. With players being more educated than ever before, that has changed in recent years.
As the NBA and the players association try and think of a creative way to end the "One-and-Done" rule, I think the expansion of the NBA Professional Pathways Program is the obvious choice. There are alternative options but few allow teams to evaluate high school prospects against better competition, keep players here in the US and compensate them accordingly.
Want To Submit A Topic? 
As we continue to get inbound request regarding specific topics, we'd like to create a streamlined process. Please use the form below to submit potential topics for Huddle Up to write about. If we select your topic, we'll give you a shoutout!