Discover more from Huddle Up
A 3x weekly newsletter breaking down the business and money behind sports. Join 100,000+ subscribers.
Over 119,000 subscribers
The Monetization Of Digital Assets Within Sports
A detailed breakdown of the most important trends discussed in PwC's annual sports industry survey.
Every morning I write an email discussing the business and money behind sports. If you would like to receive it directly in your inbox, subscribe now.
Friends,
PricewaterhouseCoopers (PwC) released their annual sports industry survey yesterday, which gives a peak into where over 750 sports executives plan to focus their time, money, and effort over the coming 3-5 years — on both a macro and micro level.
Before we dig into the details and break down some of the trends, here is a great one-page overview (Source).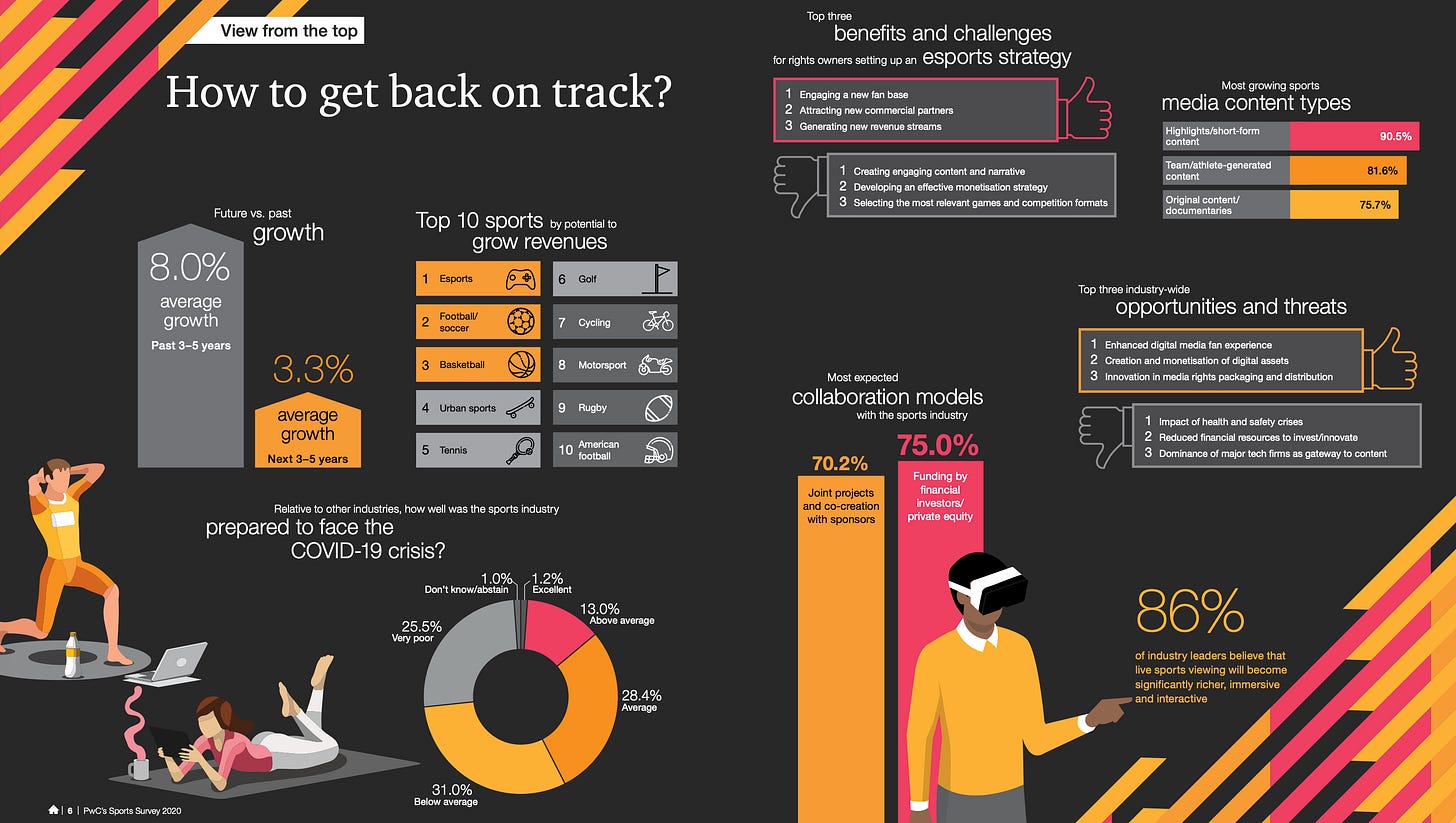 (Source / PwC)
From a macro perspective, industry executives expect overall sports revenue growth to slow dramatically — shifting downward from the traditional 8% we've seen over the last 3-5 years to a more reasonable 3.3% in the future.
Perhaps more interesting is where they expect growth to remain strong — the Middle East, Africa and Asia.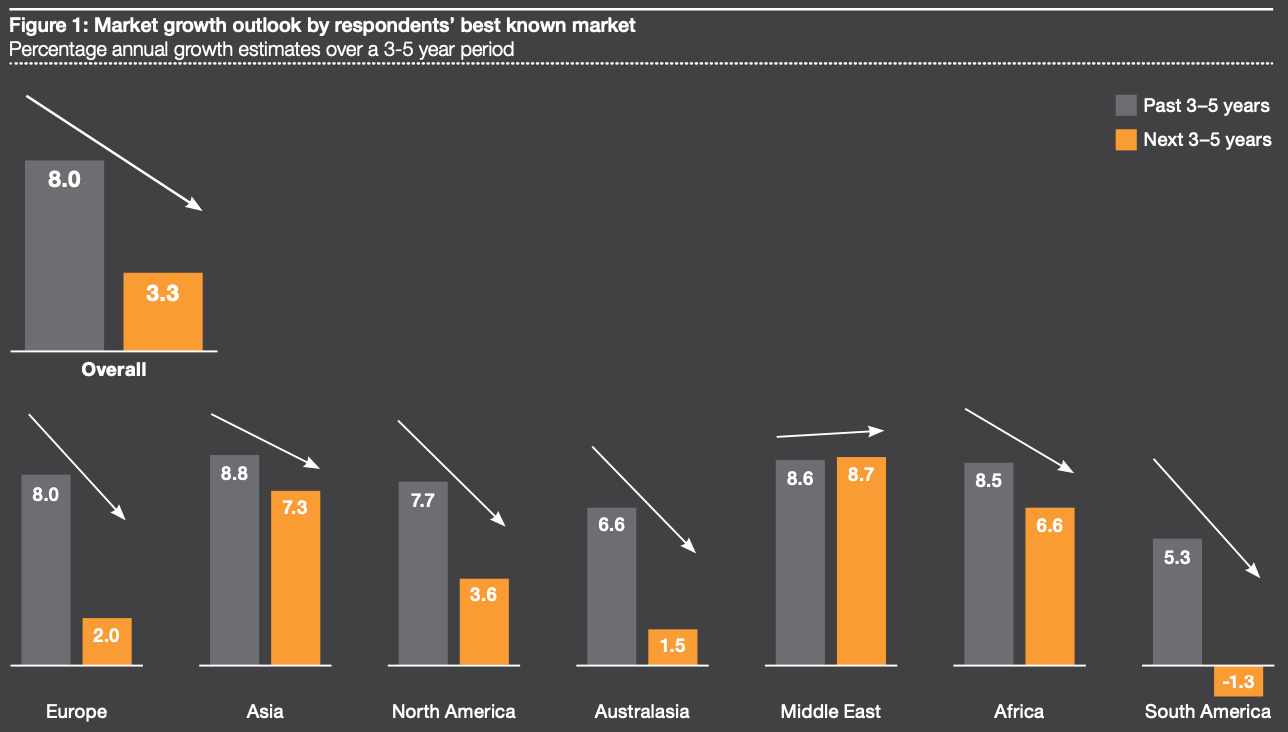 (Source / PwC)
On a micro level, the report covers various topics like the future of sports media consumption and the uptick in private equity investment, but two trends stuck out in particular to me — the focus on establishing a digital connection with fans and the continued emergence of "highlight-style" video content.
Let's discuss…
Transitioning The Fan Relationship To Digital
When comparing opportunities to threats within the overall sports landscape, over 80% of the 750+ participants listed enhancing the digital media fan experience and creating & monetizing digital assets as the greatest opportunities to increase revenue.
Those answers might have been laughed at 5 years ago, but today they seem obvious.
Here's a look at the full list.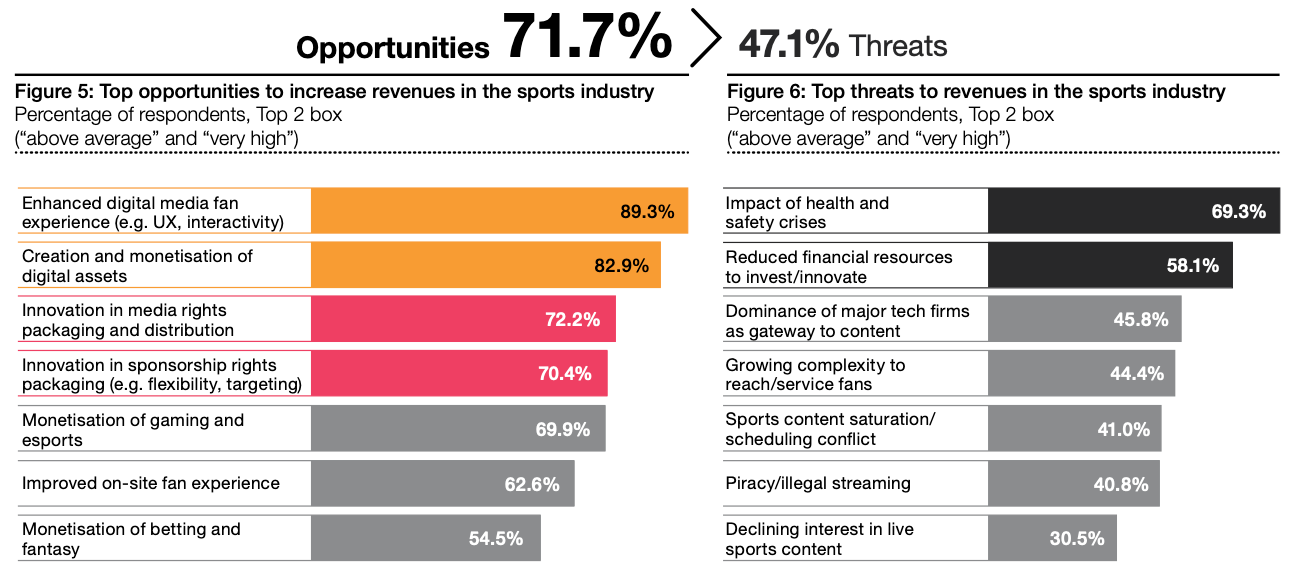 (Source / PWC)
Pandemic aside, which obviously plays a key role in the focus on digital, I believe there is a much larger factor driving the development of a digital relationship within sports.
What is it?
Societies continued march toward a personality preference of introversion.
The sports fans of tomorrow are less social, more technology driven, and display an all-time low attention span — all qualities which lead to a premium being placed on the digital assets of a sports organization / league.
Whether it's a professional sports league looking to expand their reach, or specific teams attempting to become global brands, the winners of tomorrow are investing heavily in digital content today. Players would be wise to utilize that investment and and funnel down the free distribution to personal assets like YouTube, Twitch, Instagram, Twitter, and more — which can create monetization streams for retirement.
The key will be to see which leagues, teams, or players are able to monetize those assets the best, which has proved to be difficult in the past.
Highlight-Style Video Content
When it comes to the expected growth of sports media consumption by content type, the results shouldn't surprise anyone.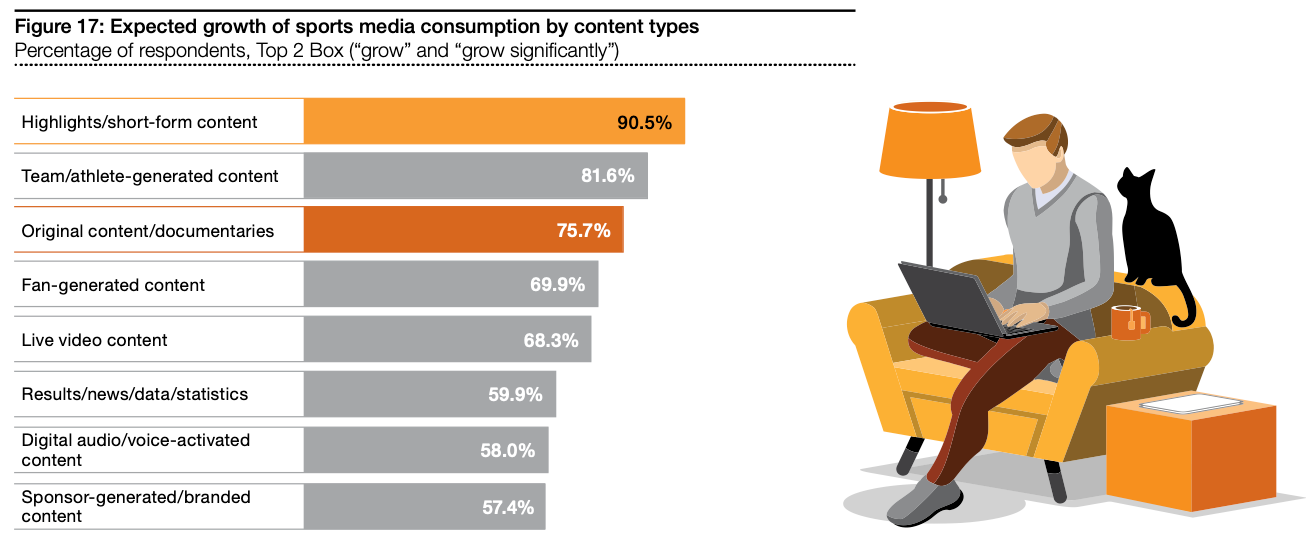 (Source / PwC)
Perhaps what is surprising, is that the growth of highlight-style media, which is commonly referred to as a "millennial thing", has grown dramatically among non-millennials also.
We've referenced the growth of companies like House of Highlights and Overtime in the past, which have built massive digital audiences by playing into the younger generations admiration for shorter content.
But when it comes to legacy sports media, and their overall distribution strategy, they're certainly a lap behind.
The sports world is changing dramatically, both from a content creation and distribution perspective, but with a reported 50% of Generation Z claiming to not even be sports fans at all — the ongoing shift to digital needs to be expedited.
In the end, whether effective monetization channels are found or not, the alignment of digital interests between fans and their respective teams is extremely important.
Think of it like a business - it's much easier to funnel digital fans down to existing monetization channels like live events, merchandise and more, but it's much more difficult, and costly, to acquire that fan in the first place.
If you want to read the full PwC report, you can check it out here.
P.S. Stay tuned for a deeper dive on the sports media and Esports portion of the report — there's some great stuff to unpack there.
If you enjoyed today's email, subscribe now to receive future emails directly in your inbox.
Extra Credit
Keegan Hall, a former tech entrepreneur turned Seattle-based pencil artist, recently released a hand-drawn version of Michael Jordan's iconic dunk at the 1988 NBA Dunk Contest.
The piece of art took Hall over 250 hours to complete and is the most incredible thing you'll see today.
---
This Newsletter Is Brought To You By…

Don't sacrifice your ability to be healthy, active, and at your best to enjoy a great beer - Athletic Brewing has created an innovative lineup of refreshing, non-alcoholic craft beers. At Athletic Brewing, they're all about re-imagining beer for the modern adult.
With Athletic beers, you can have the full relaxing ritual of drinking a great beer to wind down the day, with your dinner, or day drinking, without derailing the rest of your day or week.
Looking for a great beer for Sunday through Thursday nights? Athletic's got you covered.
Give them a try - use "JOE25" for 25% off your first order at athleticbrewing.com.