Discover more from Huddle Up
A 3x weekly newsletter breaking down the business and money behind sports. Join 100,000+ subscribers.
Over 119,000 subscribers
The Next Global Sports Superstar No One Is Talking About
How one 22 year old female plans to dominate on and off the court for the next two decades.
Every morning I write an email discussing the business and money behind sports. If you would like to receive it directly in your inbox, subscribe now.
Friends,
When you think about the biggest global superstars in sports, who typically comes to mind? Maybe LeBron James, Cristiano Ronaldo or Roger Federer?
Whether people like it or not, female athletes are rarely mentioned in that conversation.
Who's going to change that?
Naomi Osaka, the next global sports superstar you might not know anything about.
Let's take a look at how Naomi Osaka's athletic success and marketability will turn her into the next great global sports superstar.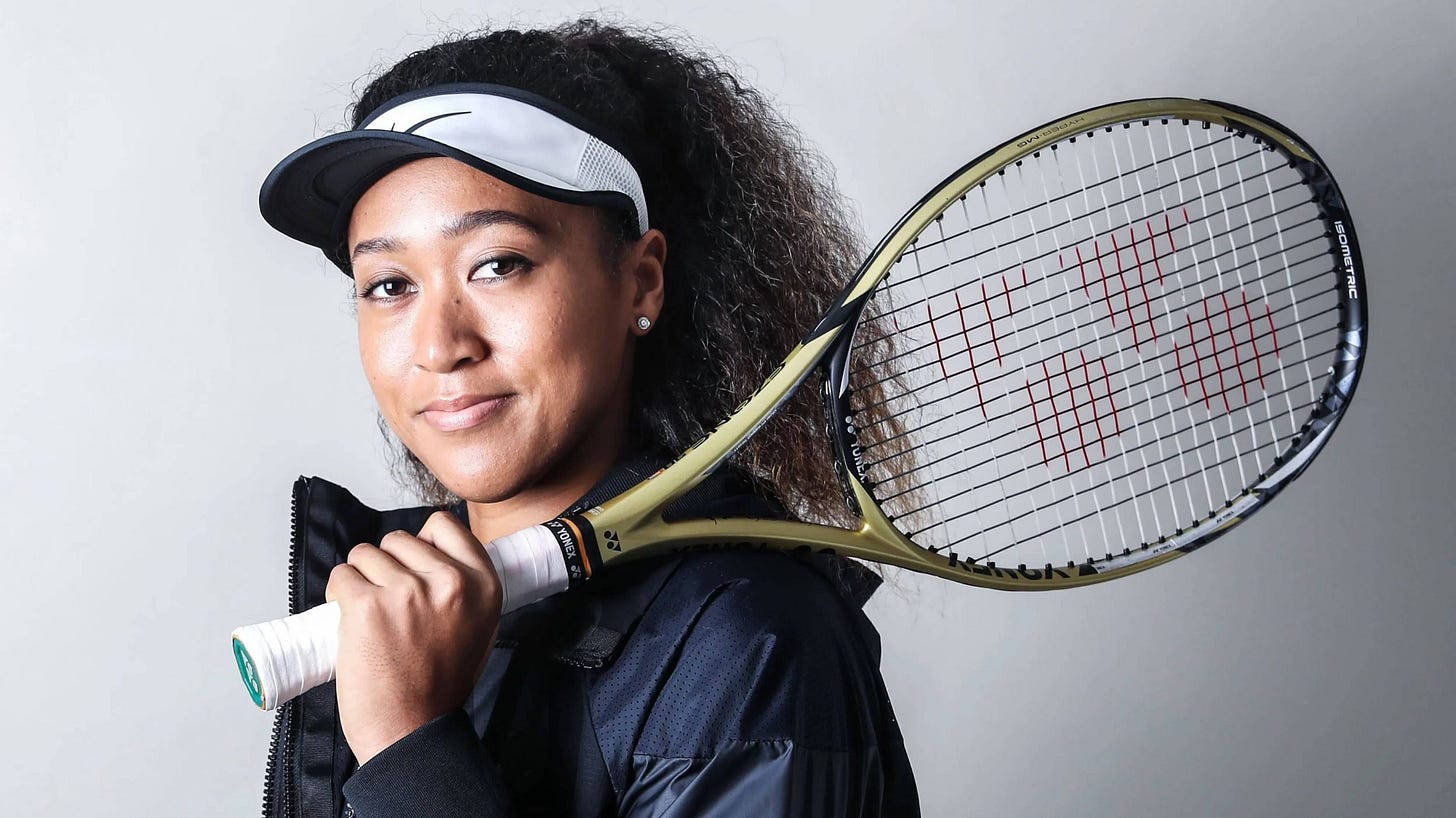 (Image Source: Nike)
Athletic Achievement
From an athletes' perspective, the recipe for global stardom unanimously requires everyone to take the same first step - continued athletic achievement in your individual sport. With athletic success comes marketing opportunities, endorsements, and ultimately - the money.
When it comes to Naomi Osaka, you can quickly check athletic achievements off the list.
Sure, she's "only" won two grand slams. Serena Williams, the greatest women's tennis player of all time, has won 26.
To be fair, that's the point though. She's "only" 22, and has already won two grand slams.
Here's a few of her athletic accomplishments so far (Source):
2018 US Open Champion

2019 Australian Open Champion

Ranked #1 in the world at 21

$14.6M in tournament winnings
Speaking of the 2018 US Open Championship, here are some highlights from Osaka's epic match against her idol Serena Williams - which led to her first grand slam victory.
(Source: US Open)
Beating the greatest women's tennis player of all time to win your first grand slam at 20 years old?
I'd say that qualifies as athletic success.
Marketability & Endorsements
When it comes to marketability and endorsements, Naomi Osaka has a few factors working in her favor.
First, Naomi Osaka has global appeal. Not only is the sport of tennis global by nature, but Osaka was born in Japan. She grew up in the United States, moving to the U.S. when she was 3, but still plays under the Japanese flag. With a mother from Japan and a father from Haiti, brands negotiating contracts with Osaka will surely see increased value as we approach the Summer Olympics in 2021 - where Osaka will represent Japan (Source).
Secondly, Osaka had incredible timing.
Shortly after her Adidas sponsorship came to an end, Osaka won two consecutive grand slams. With Serena Williams turning 38 and Maria Sharapova dealing with multiple injuries, the tennis phenom was able to parlay her success into a historic apparel deal with Nike. The deal is rumored to average around $8.5M in annual value (Source).
That's not even the best part.
The demand for Osaka was so high that she was able to negotiate her ability to continue with "patch sponsors", or non-Nike visible apparel sponsorships, something Serena Williams and Maria Sharapova were never able to do.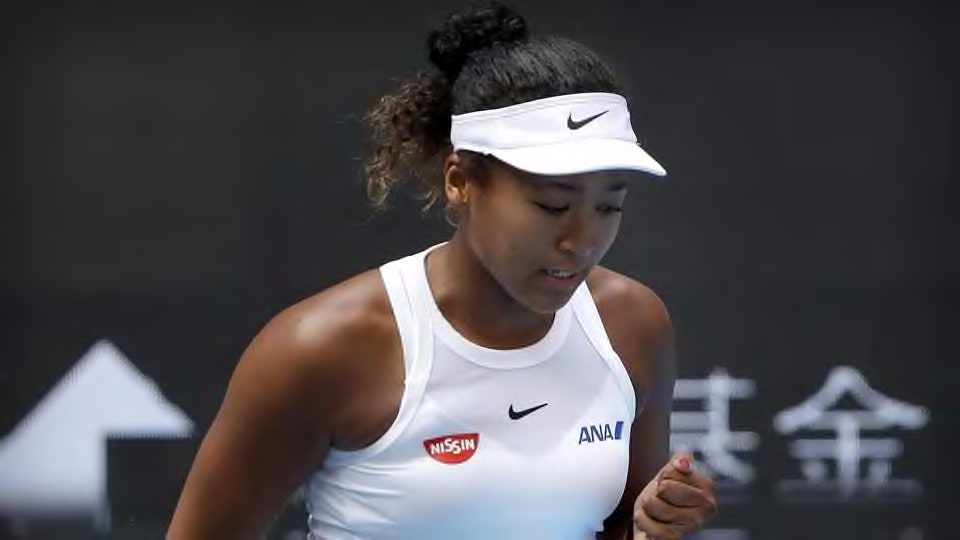 (Image Source: Getty Images)
From an earnings perspective, tennis is unique.
It's the only sport in the world where women have the opportunity to be financially compensated in a way that puts them in competition with the top men on an annual earnings basis. For instance, every year since Forbes started recording athlete salaries in 1990, the top female salary has been a tennis player.
Check out the last decade below, it's been dominated by Maria Sharapova, Serena Williams, and now Naomi Osaka (Source).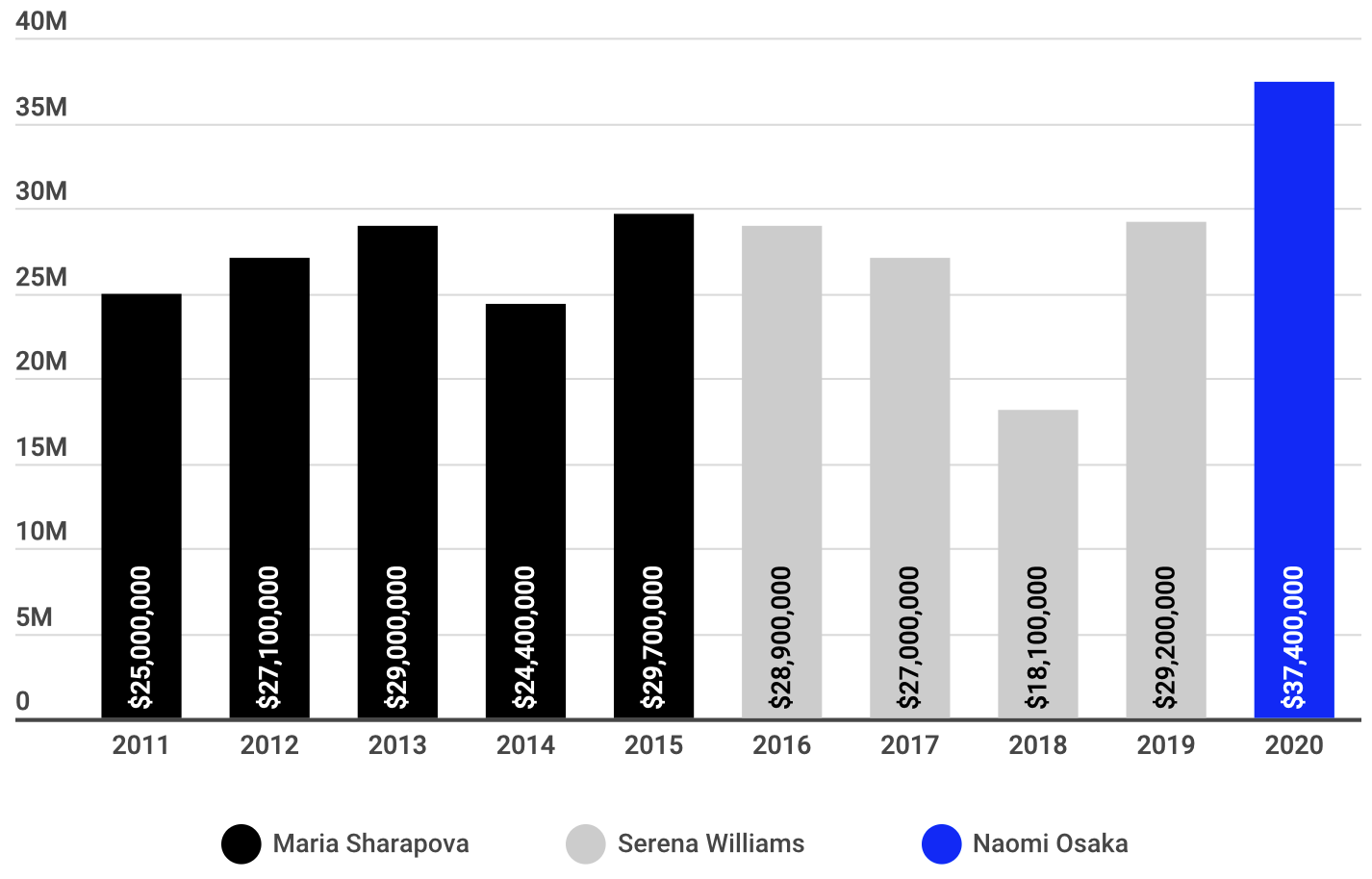 (Source: Forbes)
Specifically, Naomi Osaka made $37.4M last year, over $7M more than any female athlete in history. Only $3.4M came from on-court winnings, which speaks to the global marketing opportunities tennis players are positioned with (Source).
For context, here are a few notable athletes that Naomi Osaka made more than in 2019 (Source):
Canelo Alvarez

Damian Lillard

Sebastian Vettel

Serena Williams

Mohamed Salah

Kylian Mbappe
In simple terms, Osaka made more money last year than any female athlete in sports history. Not bad for a 22 year old.
What's Next?
The final step in Naomi Osaka's journey to global superstar is a more visible personality, a trait that has recently started to shine through for Osaka.
Fun fact - last year the word "shy" was used over 200 times within online articles to describe Osaka (Source).
My guess? It won't continue much longer. It's evident Osaka is getting more comfortable in the spotlight, expressing her style, and finding her voice. With cover features on major publications like Vogue and GQ, her personal identity is taking shape.
For instance, Osaka has started to find her voice as an activist - participating in the Minneapolis protests.
More recently, following the shooting of Jacob Blake, Osaka decided to withdraw from the Western & Southern Open. After tournament organizers postponed the match and put together an initiative to fight for social justice, Osaka agreed to play.
Albeit, with new warmup attire.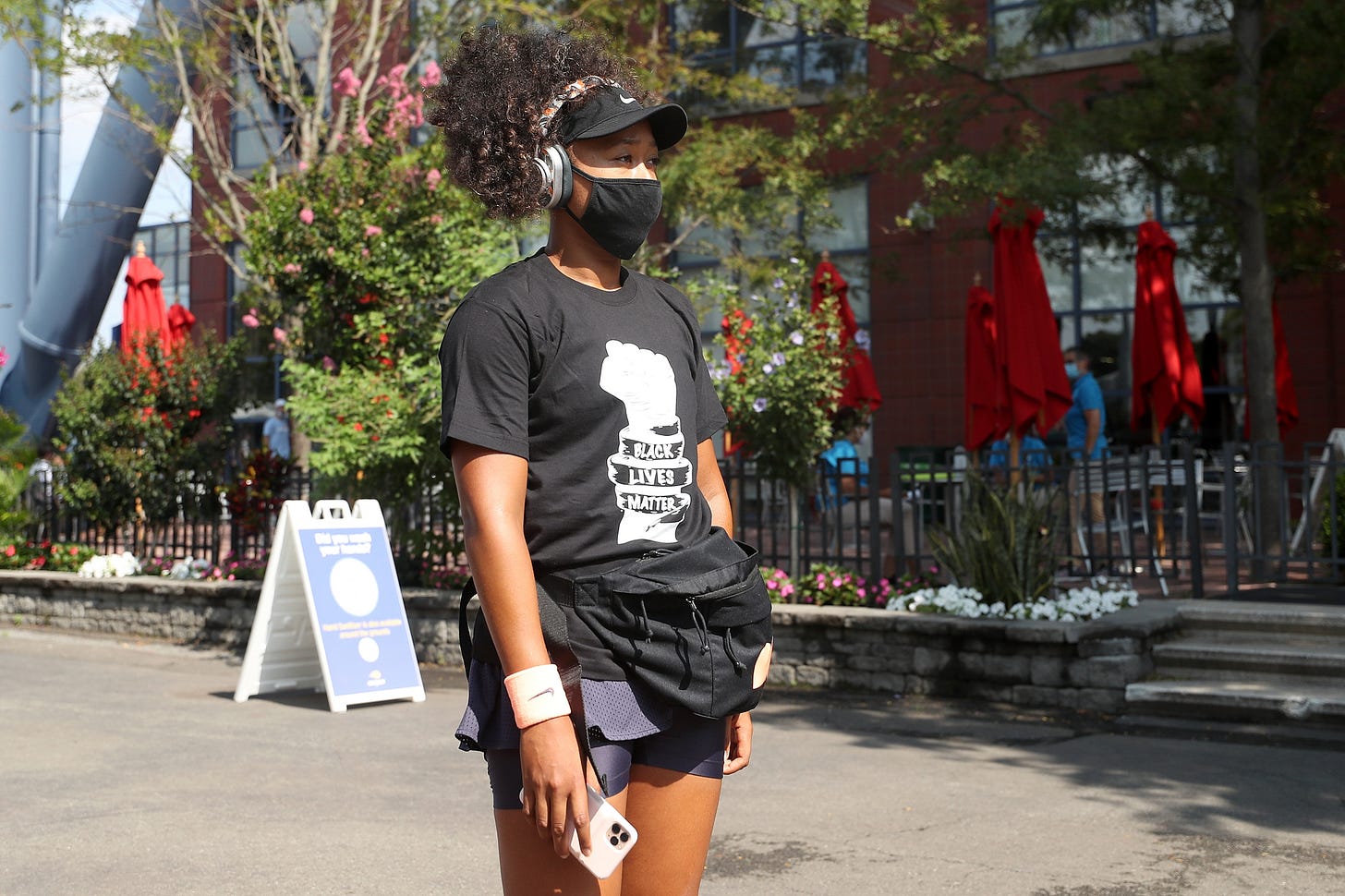 (Image Source: Bleacher Report)
If that wasn't enough, check out Osaka's response when a fan told her the tennis equivalent of "shut up and dribble".
Point being, as a 22 year old at the top of her game with global appeal and an emerging personality - the sky is the limit for Naomi Osaka.
If you enjoyed today's email, subscribe now to receive future emails directly in your inbox.
Extra Credit
Today's extra credit is a 4-minute interview Naomi Osaka did with CBS after winning her second grand slam and becoming the #1 ranked women's tennis player in the world.
The full interview is great, but the part where she discusses the impact that Serena Williams has had on her career is incredible.
Want to skip to that part? Start the video at 2:30.
Watch it, you won't be disappointed.
(Source: CBS)
Want To Submit A Topic? 
As we continue to get inbound request regarding specific topics, we'd like to create a streamlined process. Please use the form below to submit potential topics for Huddle Up to write about. If we select your topic, we'll give you a shoutout!