Under Armour: Rebuilding A $20 Billion Brand
A deep dive on what went wrong at Under Armour, how they plan to fix it, and the long-term outlook of their business.
Every morning I write an email discussing the business and money behind sports. If you would like to receive it directly in your inbox, subscribe now.
Friends,
Here's a mind blowing stat — Between 2010 and 2016, Under Armour's revenue grew from $1.1 billion to $4.8 billion, accelerating at a compounded annual growth rate of 28.7%.
The four years since?
Growth has been sedated — Under Armour's $5.3 billion in 2019 revenue represents a less than stellar 3% annual growth rate since 2016 (Source).
Don't believe me?
Just check out their historical stock price:
January 2010 to December 2015: +1,082%

January 2016 to November 2020: -67%
Furthermore, here's how Under Armour has performed against the S&P 500 since late 2015.
It's obviously been a challenging stretch for Under Armour, but I wouldn't write them off just yet. Despite founding the company more than two decades ago, Kevin Plank stepped down as CEO in October 2019 and handed the reigns to corporate turnaround specialist, and COO at the time, Patrik Frisk.
Don't forget, most of today's sports retail giants struggled at one point or another — even Nike's share price declined ~70% in the early 1980's prior to signing Michael Jordan. Not saying it's the same, but it happens.
Regardless, today we'll take a deep dive into what went wrong at Under Armour, how they plan to fix it, and the long-term outlook of the business.
(📸 / CNBC)
What Went Wrong?
Before we can get into the proposed solution and current progress, we must first understand how Under Armour got into this mess.
Sure, there have been SEC accounting investigations, questionable private real estate transactions, employees using company funds at strip clubs, a mismanagement of inventory, and an inability to build up their women's business, but Under Armour's struggles really all come down to one thing — an unwavering commitment to performance appeal and footwear.
Rather than investing in, implementing, and riding the fashion and athleisure wave—like Nike, Lululemon, and Adidas have done—Under Armour spent $700 million between 2013 and 2015 to acquire several fitness and health-related apps in an effort to become a "digitally interconnected fitness and health company that could touch all aspects of the consumer's life."
Needless to say, that strategy hasn't panned out.
Just last week Under Armour announced the sale of MyFitnessPal, a nutritional and exercise tracking application they bought for $475 million in 2015.
The sale price this time?
$345 million — a 27% loss in value despite having over 120M more active users than when the app was purchased just 5 years prior.
The vision wasn't necessarily wrong—Lululemon seems to be attempting a similar strategy after purchasing fitness start-up Mirror for $500 million last year—but Under Armour lacked the two most important things: timing and execution.
Kevin Plank and team were ahead of their time in some way, attempting to acquire and integrate digital applications into their performance footwear and apparel products — while the rest of the market spotted the rising tide in fashion and athleisure.
Here's what Matt Powell, an analyst with the NPD Group, told The NY Times earlier this year (Source):
"The fashion cycle moved away from them. They stayed true to their muse, performance footwear and apparel," said Matt Powell, an analyst with the NPD Group. "But that's just not where the business is. Right now, it's all about fashion and athleisure."
That's not to say trends won't revert back to consumers preferring athletic performance related footwear and apparel, at some point they probably will, which is exactly what Under Armour is betting on — a reinvigoration of their bread and butter.
While acknowledging their misstep on athleisure, Kevin Plank and Patrik Frisk have introduced a turnaround plan centered on an increase in performance related innovation—the initial concept Under Armour was built on—while fixing structural issues within their business like inventory management, e-commerce strategy, and global expansion.
Let's run through a few of their high priority items.
Inventory Management
From an inventory management and turnover perspective, Under Armour is one of the worst in the business.
Here's a good visual representation of how their inventory turnover stacks up against competitors Nike, Adidas and Lululemon (Source).
The worst part?
These numbers have declined even further.
Last week, Under Armour reported YoY inventory growth of 24% and a turnover ratio of 2.39% — the lowest in the history of their company.
Under Armour has historically been plagued by undisciplined inventory management, which has continuously lead to a deterioration of their brand image, as a large percentage of their product ends up on sales racks in discount department stores like Kohl's, Marshalls, and TJ Maxx.
It's also having an impact on Under Armour's relationship with big-name partners like Stephen Curry.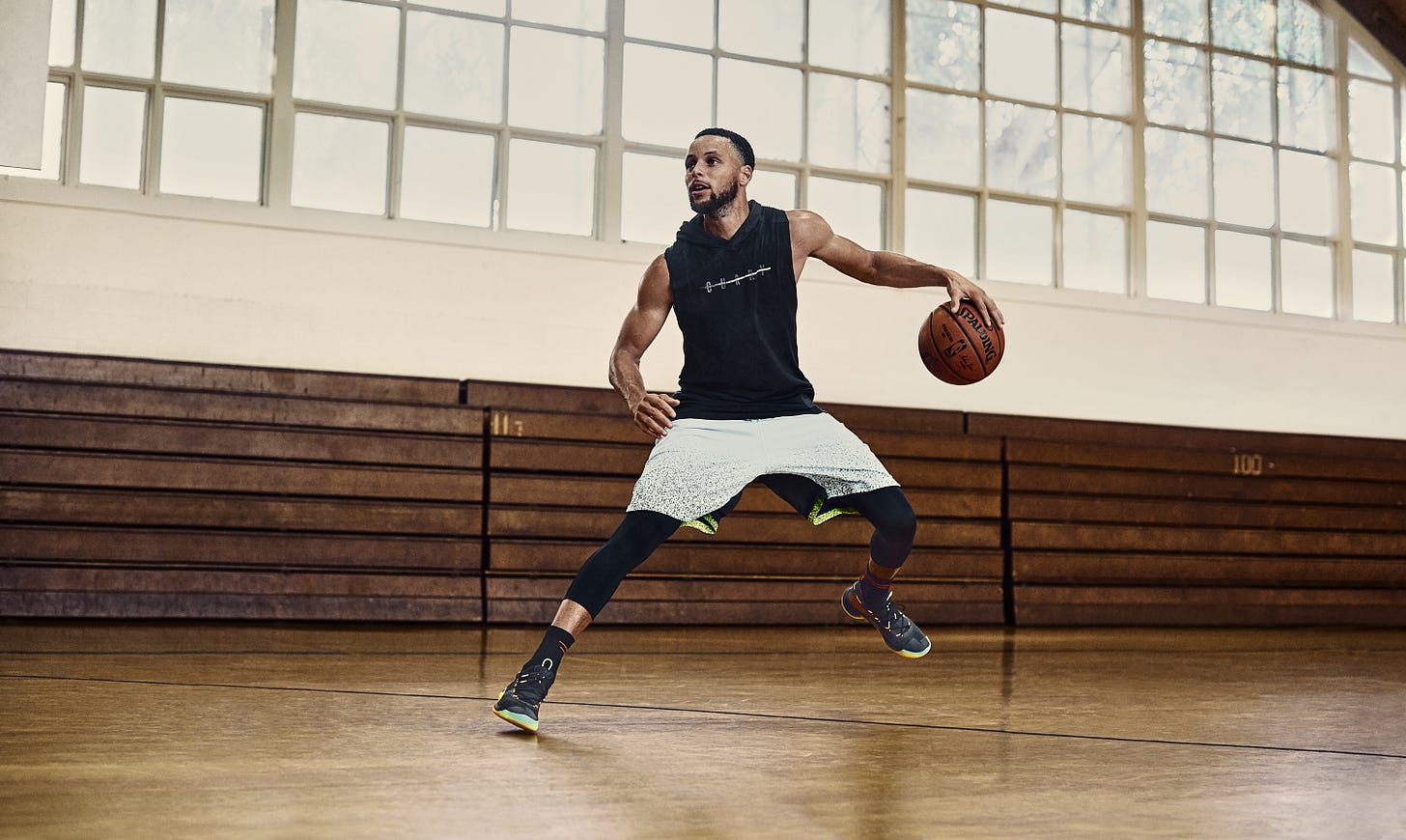 (📸 / Under Armour)
The NY Times reported earlier this year that NBA All-Star Stephen Curry grew frustrated with Under Armour over a variety of things, including the mismanagement of inventory for the release of his signature shoe — the Curry 3.
It was reported that after the limited drop Curry 2 sold out quicker than expected, Under Armour management decided to triple the available supply for the release of the Curry 3 — a decision which proved to be fatal, as the "exclusive" shoes sat in unsold inventory and eventually hit sales racks across the country.
Simply put, Under Armour needs to get their inventory under control — which brings me to my next point.
E-commerce vs. Brick & Mortar
In an effort to better control their inventory, and pivot to an e-commerce D2C model, Under Armour announced its plans last week to withdraw from 2,000 to 3,000 wholesales stores by 2022.
Here's what CFO Dave Bergman said about the move (Source):
"We will begin to exit certain undifferentiated wholesale distribution primarily in North America starting next year. And over the next couple of years, we expect to more meaningfully reduce our overall North American distribution points by about 2,000 to 3,000 doors, so heading toward about 10,000 doors by the end of 2022 in our largest region. And finally, within DTC, we plan to continue to pull back on promotions and discounts to drive our premium brand positioning, which we'd expect will result in some near-term implications on top-line results, yet continue to support healthier margins as well."
The reduction of wholesale stores and greater penetration into e-commerce certainly plays a role in inventory management, but perhaps more importantly, the move also signifies Under Armour's awareness of their deteriorating market position as a "premium brand."
Furthermore, Under Armour is betting that the greater emphasis on e-commerce will help facilitate continued expansion internationally — a part of the business that significantly lags market leaders like Nike.
For example, Nike generated 60% of its revenue from international sales last year — compared to only 30% for Under Armour.
As Nike continues to accelerate sales through digital channels, so should Under Armour.
Product Diversification & Women's Expansion
(📸 / Under Armour)
I'll keep this one short — Under Armour needs to diversify their product offering and continue to build out their women's business.
Here are the facts (Source):
Women's apparel, footwear and accessories only comprised ~20% of Under Armour sales last year.

Footwear only makes up ~20% of Under Armour's total sales, compared to around 60% of Nike's overall business.
To be fair, Under Armour seems to be aware of the necessary changes and appears to be making steps in the right direction. On their earnings call last week, CEO Patrik Frisk called Under Armour's women's and footwear businesses "two of our largest long-term growth opportunities."
From a macro perspective, Under Armour's plan revolves around product innovation and targeted marketing geared toward female consumers. On the footwear side, Under Armour plans to release new innovation like UA Flow Technology, a "revolutionary" cushioning platform which they see increasing footwear sales across basketball, football, baseball and running.
In the end, it's way too early to determine the potential impact of Under Armour's turnaround plan. They beat expectations last quarter, which was a good first step, but when it comes to rebuilding the structural foundation of a business that's been beaten and bruised for years — it's never going to be easy.
If you enjoyed today's email, subscribe now to receive future emails directly in your inbox.
---
Extra Credit
ICYMI — I posted a detailed thread Friday night on the founding story and business model of 100 Thieves, the hottest team in esports.
If you haven't read it, you should check it out — it's a great story.
A former McDonald's cashier is attempting to build the next great billion dollar sports franchise. The craziest part? It's working. Time for a thread 👇👇👇
---
This Newsletter Is Brought To You By…
Don't sacrifice your ability to be healthy, active, and at your best to enjoy a great beer - Athletic Brewing has created an innovative lineup of refreshing, non-alcoholic craft beers. At Athletic Brewing, they're all about re-imagining beer for the modern adult.
With Athletic beers, you can have the full relaxing ritual of drinking a great beer to wind down the day, with your dinner, or day drinking, without derailing the rest of your day or week.
Looking for a great beer for Sunday through Thursday nights? Athletic's got you covered.
Give them a try - use "JOE25" for 25% off your first order at athleticbrewing.com.