U.S. Sports Betting - A (Digital) Gold Rush
A look at the past, present and future of online gambling in the U.S.
Every morning I write an email discussing the business and money behind sports. If you would like to receive it directly in your inbox, subscribe now.
Friends,
We are going to do something different today — I think you'll love it.
Given the explosion in sports betting, I asked my friend Will Hershey, the co-founder and CEO of Roundhill Investments, to do a deep-dive on the past, present, and future of the industry.
Roundhill Investments is an ETF sponsor focused on thematic and sector-specific investing, but more specifically, they offer ETFs targeting esports and digital entertainment (NYSE: NERD), and sports betting and iGaming (NYSE: BETZ).
I'm biased, but I think his breakdown is outstanding — if you enjoy it, and want to learn more about Roundhill Investments, check out their website here.
Without further ado, let's get into it.
---
Past
America's History with Games of Chance
America's history with games of chance stretches back to the country's earliest settlers. In the colonial era, wealthy Virginians raced horses, while local lotteries expanded to number nearly 400 amongst the 13 colonies. Lotteries were utilized not only as a form of entertainment, but as a reliable source of revenues. To a large degree, lotteries helped to finance the early growth of colonial America, including the formation and growth Jamestown, Virginia. Lottery revenues also played a role in establishing the nation's earliest and most prominent institutions such as Harvard and Yale. Meanwhile, casino gaming, including dice and card games, started small, predominantly taking place in taverns and roadhouses. By the early 1800s, large and lavish casinos began to take hold.
However, over the coming decades, scandals and public perception weighed heavily on the market. Several states would outright ban various forms of gambling altogether, while Nevada continued to bounce back and forth between regulating and banning casinos. 
By the 1850s, San Francisco had overtaken New Orleans as the country's gambling capital -- driven by an influx of gold prospectors looking to "get rich." Yet as with other states, California would go on to gradually strengthen its regulation of the rapidly expanding gambling market. Over time, those games too, went underground.
It wasn't until the wake of the Great Depression that the country's current gambling landscape began to take shape. In 1931, Nevada worked to officially legalize gambling as a means to generate tax revenues and provide economic relief. And the stage was set for the Las Vegas strip, soon to become the nation's new casino capital.
Las Vegas was followed by Atlantic City in 1977, and again by the Seminole tribe of Florida in 1979, which spurred a trend followed by other native casinos.
Despite this progress towards a regulated market, the market of online sports betting, in particular, faced hurdles including:
Interstate and international transactions remained illegal under the Federal Wire Act of 1961

Wagering on sports was prohibited on a federal level throughout the country under the Professional and Amateur Sports Protection Act (PASPA) which was passed in 1993. (Note: Nevada, and several other sports lotteries were grand-fathered in and continued to operate).
Daily Fantasy Sports Paves the Way
In the early 2010s, the success of Daily Fantasy Sports (DFS) platforms including FanDuel and Draftkings helped lay the groundwork for a regulated sports betting market. DFS platforms were seen as offering games-of-skill versus games-of-chance, skirting the typical regulations against chance-based gaming in most states. These platforms grew exponentially, and introduced the concept of entering tournaments digitally to millions of Americans. Their growth also helped to lessen the stigma associated with wagering on sports.
In November 2013, New Jersey became the first state to fully legalize online poker and casinos following the momentum from DFS. This highlighted an important milestone -- the willingness of state legislatures to regulate games-of-chance in exchange for significant tax revenues.
Repeal of PASPA
The final and most notable breakthrough came less than three years ago. On May 14, 2018, the United States Supreme Court ruled PASPA was unconstitutional and paved the way for states to self-regulate retail and online sports betting. New Jersey, which had been the primary proponent of repealing PASPA, was the first state to take advantage of the amended laws. Less than one month following the repeal, the State of New Jersey signed Assembly Bill 4111, effectively legalizing sports betting moving forward.
And just like that, the digital gold rush of interactive gaming was started.
---
Present
Since its bill passing, New Jersey has achieved tremendous success in creating a regulated sports betting market. In 2019 alone, the state saw roughly $4.6 billion in wagers and revenues of nearly $300 million, resulting in $36 million in tax revenues.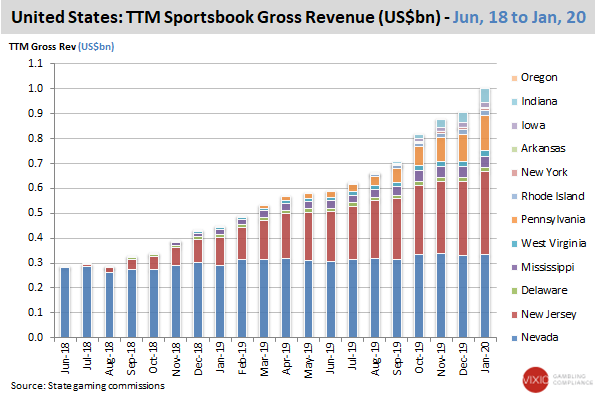 State-by-State Regulation
Following the success of New Jersey, several additional states have moved to legalize sports betting -- including Illinois, Colorado, and Pennsylvania. In total, 23 states have legalized sports betting, while 18 are currently active. 10 of those 23 have introduced regulated mobile betting.
Eventually, we expect that all 50 states will introduce legalized mobile betting. However, market access remains critical. State-by-state regulation will vary, with access to and cost of regulatory licensing varying across states. In several states, licensing of "skins" from pre-existing land-based operators has become prevalent. This in theory should benefit those with brick-and-mortar footprints.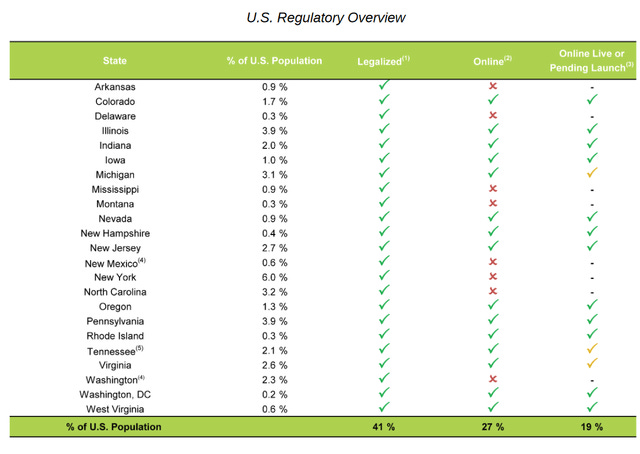 Source: DraftKings S1-A
Outside the United States, several countries are experiencing continued regulatory momentum as well -- including Brazil, Canada and India.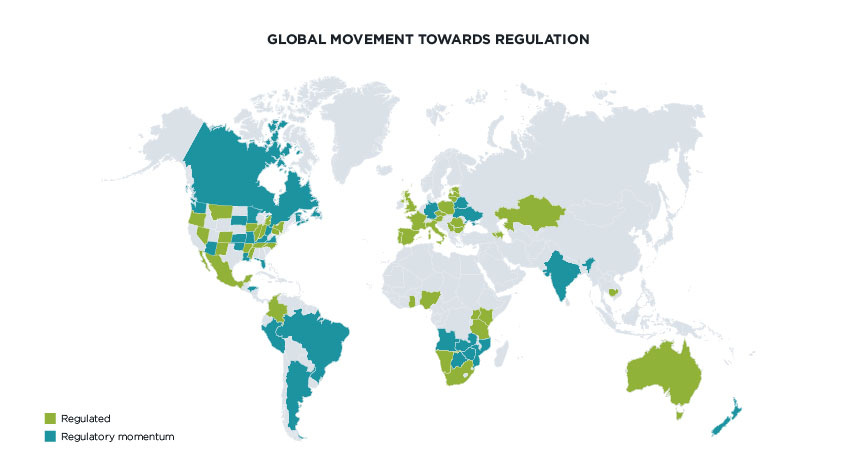 Business model
The business model for online sportsbook operators is nearly identical to that of traditional sportsbooks. Sportsbooks offer lines and spreads to customers, who place wagers against the house. The typical model would include a "vig," or additional amount required to bet to win a lesser amount. The standard here is -110, where a bettor is required to to bet $110 to win $100. On a large scale, the odds therefore favor the sportsbook, allowing the books to generate profits over time.
A few terms to know when analyzing these businesses:
Handle - the total amount wagered on an event or over a time period

Gross gaming revenues (GGR) - difference between amount wagered and amount paid out to winners

Hold - percentage of wagers kept by the sportsbook versus total wagered
In the sports betting industry, hold % can vary quarter-to-quarter or operator-to-operator but generally falls in the 5-8% range. This means, naturally, that it's a game of scale. After all, if a sportsbook only retains $5 million for every $100 million wagered, you're going to need billions of dollars in wagers to support a large-scale betting operation.
And that's where customer acquisition comes into play.
Market Share & Size
As of 2020, the U.S. online betting market is dominated by a few large players, notably early DFS-pioneers DraftKings and Fanduel. To date, this has been fueled by large advertising budgets and affiliate marketing. The idea is that insofar as the lifetime value (LTV) of a bettor is greater than the customer acquisition costs (CAC), the trade is worthwhile.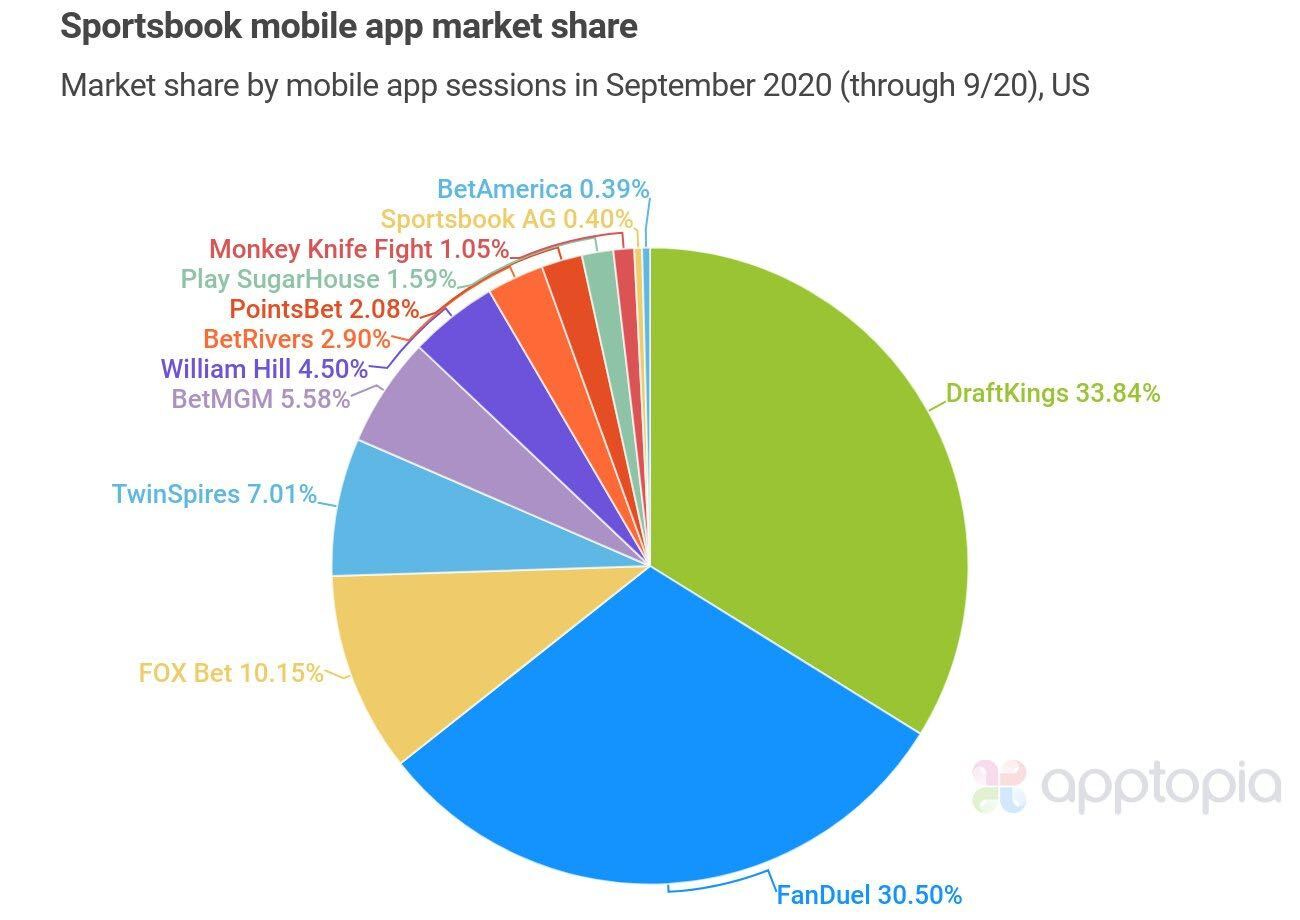 Looking forward, we expect the market to continue to fragment further - in part driven by regulatory advantages awarded to certain operators, but more importantly to represent different target audiences amongst the various players.
A look at the more mature European online betting market - which is widely distributed amongst the various operators - supports this theory.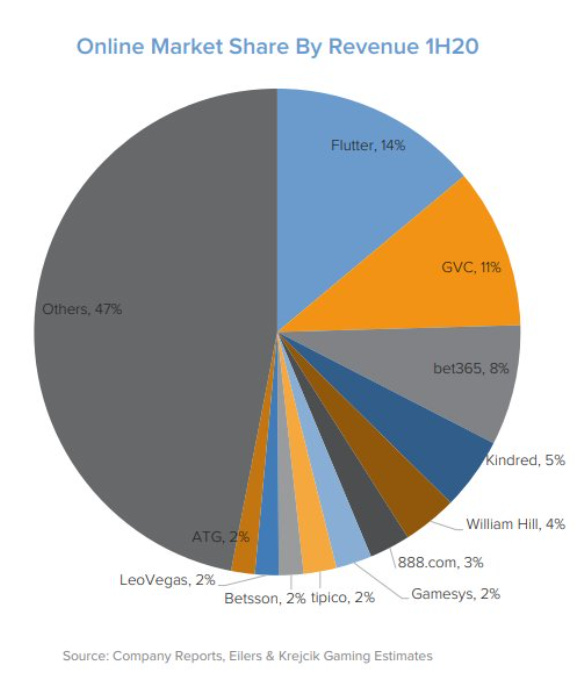 In terms of market size, estimates vary widely for the U.S. market opportunity, likely due to lack of data surrounding the size and scope of the black market. Most recently, Needham research initiated coverage on DraftKings and highlighted an annual market size at maturity of $42 to $58 billion in gross gaming revenues. Importantly, this figure includes online casino, or iGaming. More on this a bit later...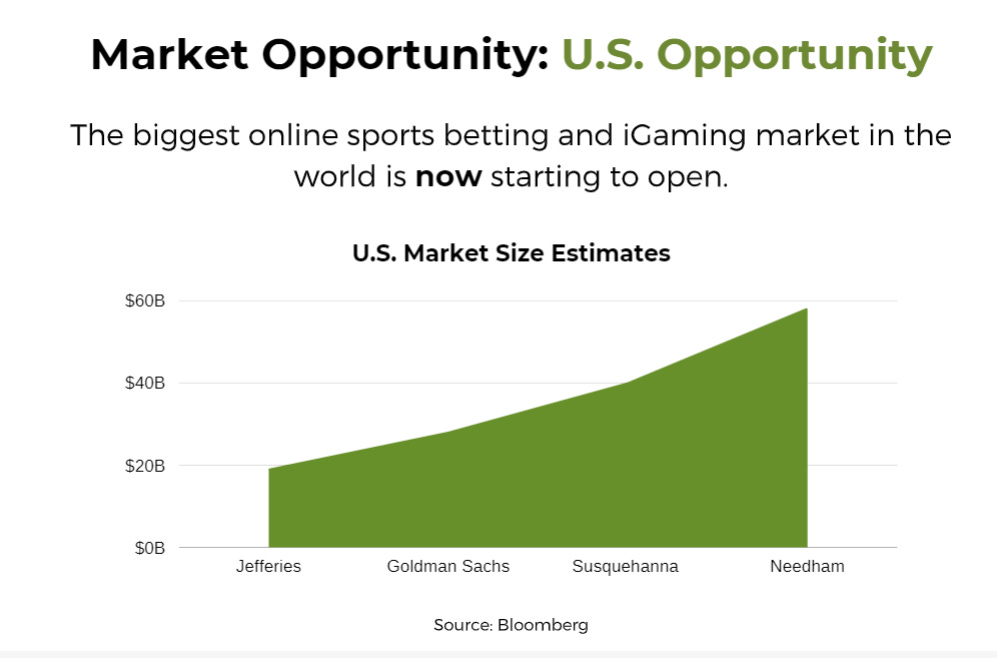 Impact of COVID-19
The COVID-19 pandemic briefly brought nearly all of the sports world to a grinding halt as all major US sports leagues and events were postponed. Unsurprisingly, bettors still found ways to bet. During the peak months of the pandemic, betting on alternative sports such as table tennis and esports surged. By the time major league sports had returned, the betting market swelled with pent-up demand.
In September 2020, New Jersey recorded a new U.S. state sports betting handle record in August 2020 with $667.9 million wagered, breaking the previous record of $614.1 million bet on sports in Nevada in November 2019. Similar state-level records were recorded in Illinois, Colorado, and Indiana, among others.
But perhaps most notably, a large majority of bets were placed online, including more than 90% of the New Jersey record handle. In our opinion, this represents a broader shift in the betting economy from physical brick-and-mortar to digital, a trend that we expect to continue accelerating over the coming years.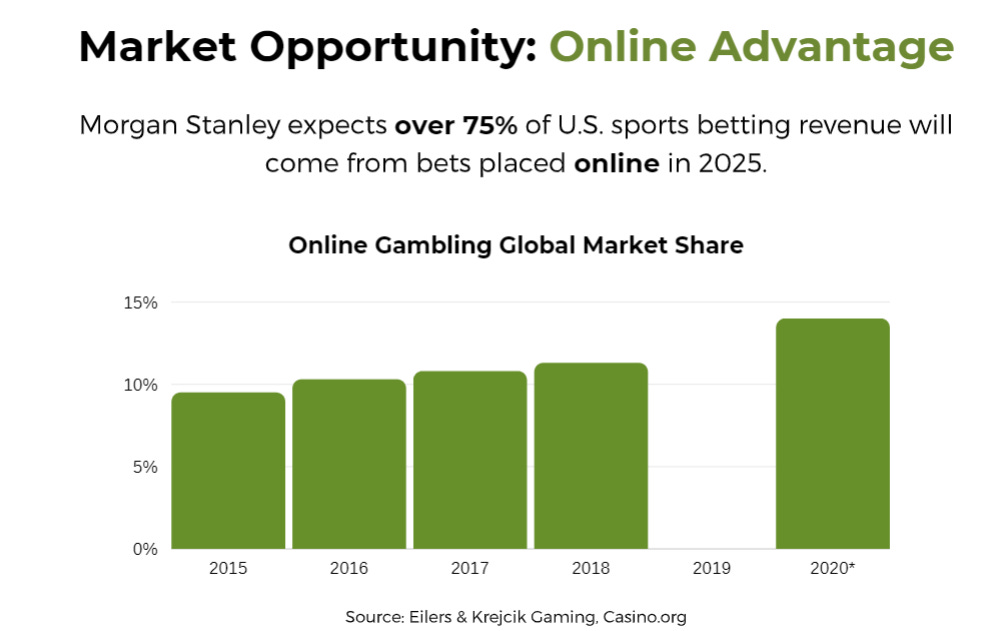 According to Morgan Stanley, more than 75% of U.S. sports betting revenue will come from online bets by 2025. This coincides with a broader market share capture taking place globally, in which gambling is currently the largest form of entertainment at more than $500 billion in GGR.
Partnerships
I recently wrote an in-depth piece covering the Barstool investment by Penn National Gaming which you can read here. But for a TLDR, Penn effectively purchased a top-of-funnel (i.e. customer acquisition tool) in Barstool Sports. 
Similar partnerships and investments are being struck across the landscape, including the most well-known brands within sports. The goal here is simple -- grab market share by leveraging the reach of players within linear and digital sports media (and the sports themselves).
These deals are all different from one another in terms of structure, but a couple takeaways are consistent throughout: (1) sports betting has transformed from "taboo" to mainstream seemingly overnight; (2) sports media giants appreciate betting as a long-term monetization strategy.
To further this point, NBC's recent partnership with PointsBet not only includes a multi-year marketing agreement which will bring hundreds of millions dollars to NBCUniversal, but also saw NBC take a 4.9% equity stake in the Australian sportsbook. NBC has a further option to increase its ownership to 25%, a move which, if exercised, would effectively make NBC a regulated gaming operator. That option alone, and the implication of what it would mean if exercised, speaks volumes about the potential for growth.
In terms of team-level partnerships, we expect that every professional sports team in the U.S. will have an "official betting partner" (or two or three) as regulations are eased. For a few examples:
NFL: New York Giants / DraftKings

NHL: Vegas Golden Knights / William Hill

NBA: Philadelphia 76ers / Caesars

MLB: Detroit Tigers / PointsBet

MLS: DC United / Caesars Entertainment
In August of this year, William Hill became the first sportsbook to offer betting at a professional sports arena (Capital One Arena). The leagues themselves are also onboard as well:

Consolidation
As the industry continues to evolve and mature, stronger players are likely to attempt to consolidate the industry. In the past 18 months alone, we have seen significant M&A activity, including:
Caesars to buy U.K. sportsbook operator William Hill

Caesars and Eldorado merger, creating largest land-based casino operator in the U.S

Evolution Gaming acquiring NetEnt to further its position in online gaming

Flutter acquisition of The Stars Group to expand into online poker

IAC establishing a stake in MGM Resorts

DraftKings SPAC and subsequent merger with SBTech, back-end B2B sportsbook operator
Future
While many of the trends highlighted above are likely to continue, what else do we see as the future of online betting in the U.S? A few thoughts:
Live Betting
In-game betting has been around for years, but continued improvement in technology and backend software will allow for live betting to take a leap forward. As pricing markets continue to become more efficient, innovative players are likely to expand live bets.
Imagine the ability to bet on whether the next pitch will be a fastball, or whether a team will go for 2 after a touchdown. The possibilities here are endless, and represent a potential solution for declining TV ratings. Sports betting as a whole improves engagement and viewership, but introducing advanced in-game wagering would take this to the next level. Particularly for a Gen-Z audience that is all about instant gratification and gamification. If the MLB is looking for a silver bullet to cure aging demographics, this is it.
This potentially expands beyond the context of what we currently view as betting material. Imagine live-betting on a presidential debate, for example.
"Free-to-play" (Zero Vig)
As new entrants enter the market, I expect that smaller players will be creative from a feature-standpoint in order to differentiate themselves from the pack (see: "Pointsbetting" from Pointsbet). The natural progression here is shift towards a low, and then zero vig market. If you recall from above, sportsbooks have traditionally offered "bet $110 to win $100". They generate revenues from this spread. This may shift to "bet $100 to win $100" (for vanilla bets).
In this model, sportsbooks still generate revenues from exotic bets (i.e. parlays or futures) but the core product becomes "free-to-play". This is analogous to the brokerage business in the United States -- commissions to trade stocks are zero, but brokers are able to monetize via options trading and selling data.
Sportsbooks could further monetize via advertising in-app, including the potential for licensing the ability to stream games directly through the application. In this scenario, sports betting apps have the potential to replicate the existing experience of linear sports television while adding betting functionality. This becomes the holy grail of what digital betting could become, and hopefully adds context to the seemingly elevated valuations in today's public markets.
iGaming
Finally, the long term opportunity of mobile sports betting is actually an entirely separate concept. While DraftKings and Fanduel were built on Daily Fantasy Sports, the endgame wasn't DFS. The same is true for sports betting.
As regulations allow, the long term goal for online sportsbooks will be to convert customers into online casino, or "iGaming", customers. This includes games-of-chance such as online slots, online blackjack, and online poker. These games are significantly more profitable for operators (higher margins), offer more predictable cash flows, and higher lifetime values per customer. At the moment, this market in the U.S. is nascent, however, in states where iGaming is legal, many of the biggest players in sports betting are starting to offer online casino games within their app.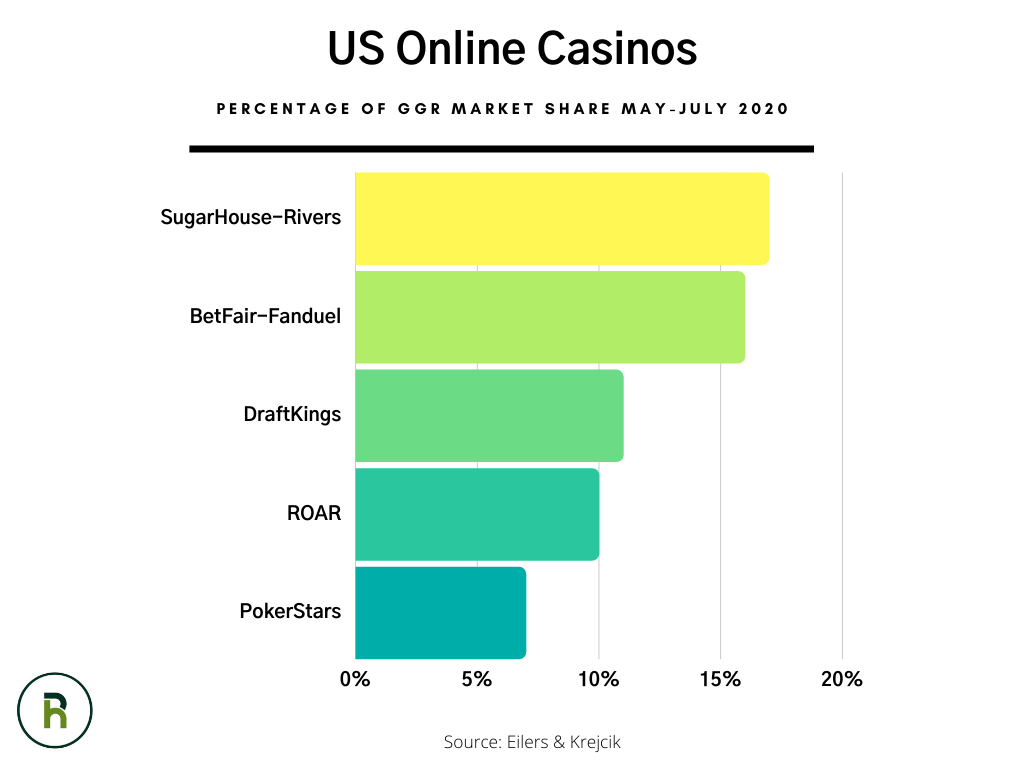 .
In Sweden, Evolution Gaming has pioneered live real-money table games online, by streaming live dealers directly to customers. 
Conclusion
This is all to highlight -- the future of regulated sports betting is exciting, and will likely shape the way we interact with sports for the coming generations. Just remember, the house always wins.
If you enjoyed today's email, subscribe now to receive future emails directly in your inbox.
---
Extra Credit
In August, William Hill turned the box office at Capital One Arena, home of the Washington Wizards & Capitals, into a pop-up sportsbook.
The demand was strong — In September, the sportsbook did 3,800 daily bets for over $12.2M in total.
Yesterday, after seeing such high demand for the pop-up version, William Hill released renderings of a permanent location inside the arena — the first of its kind in the United States.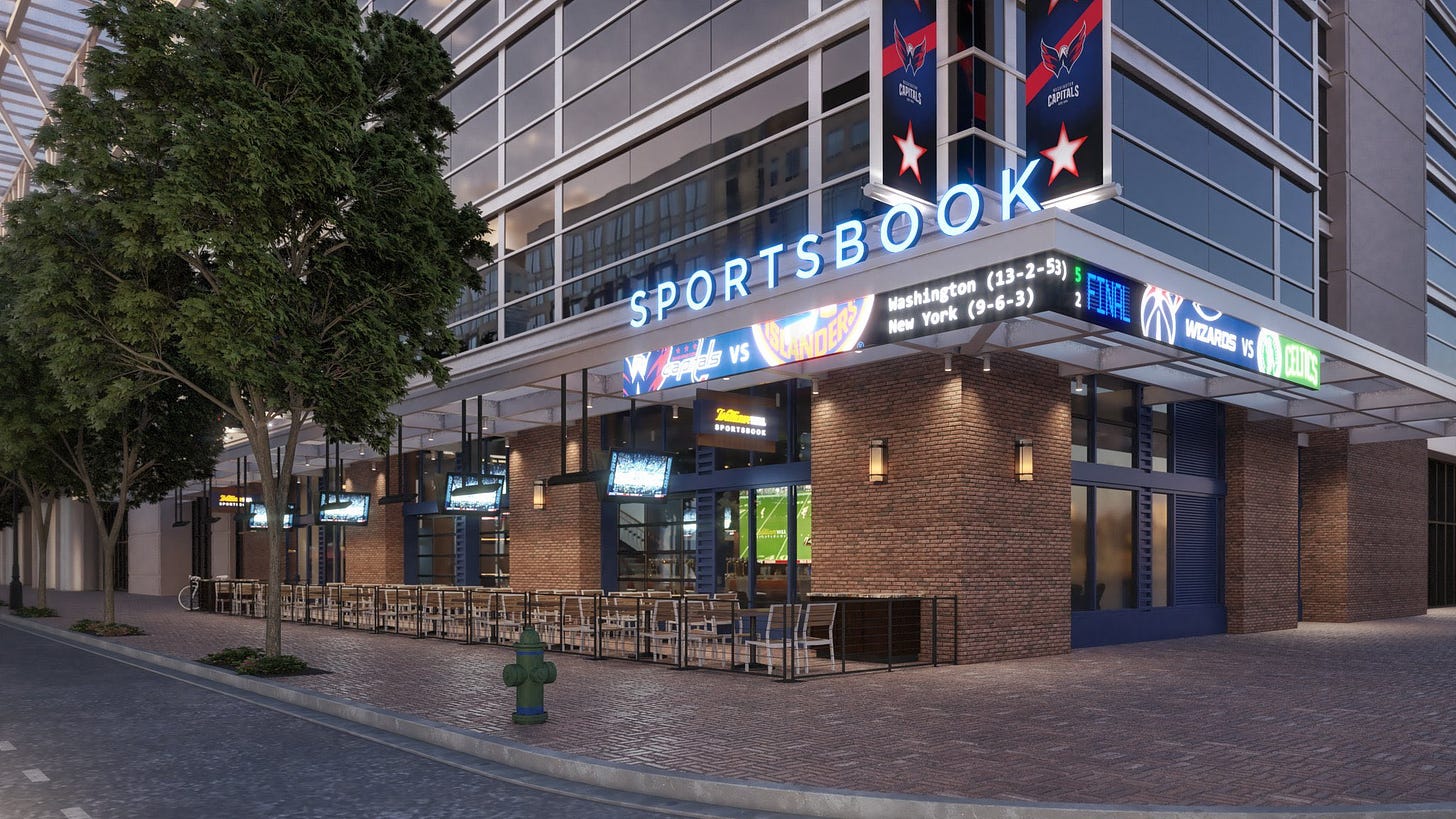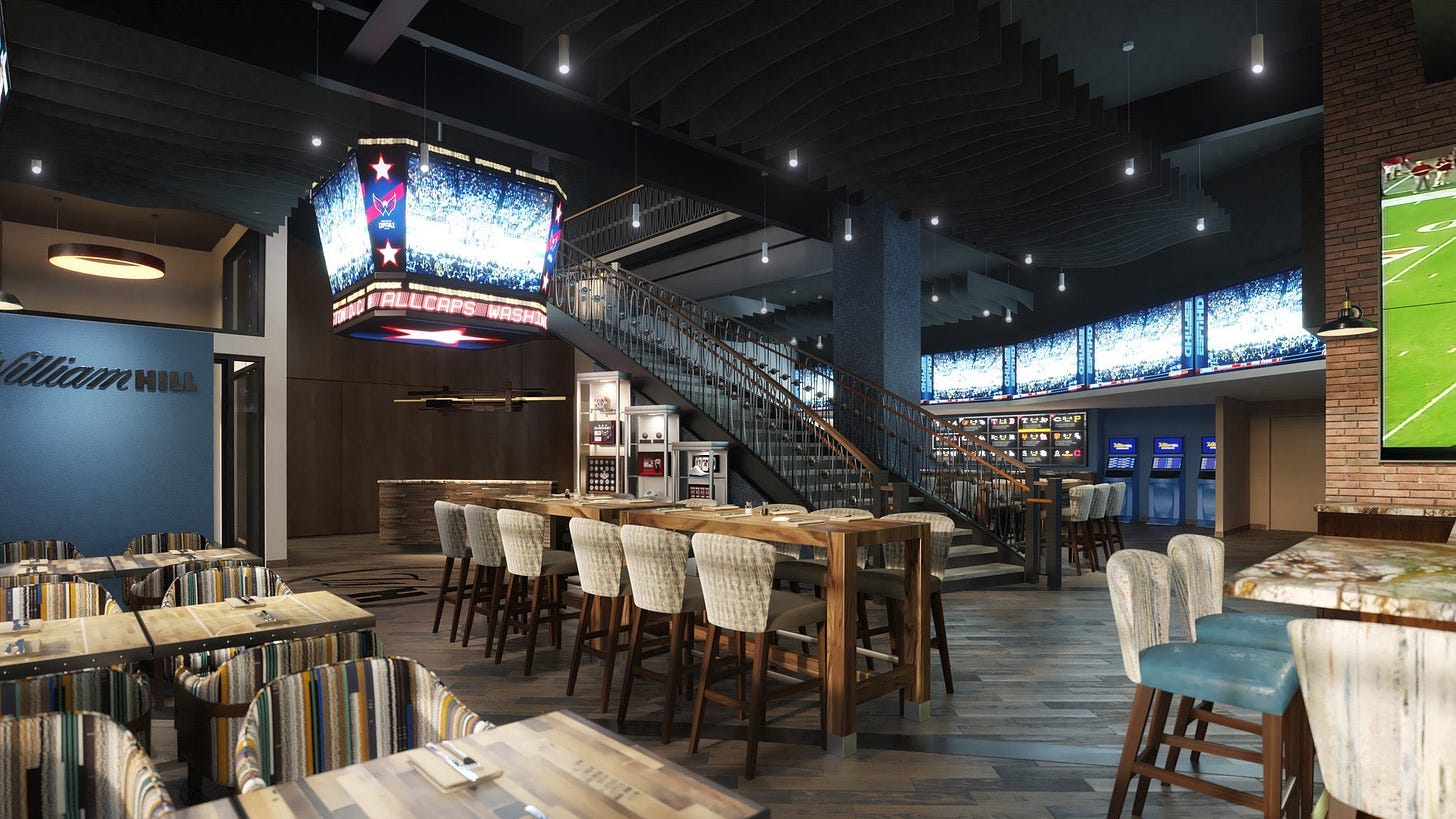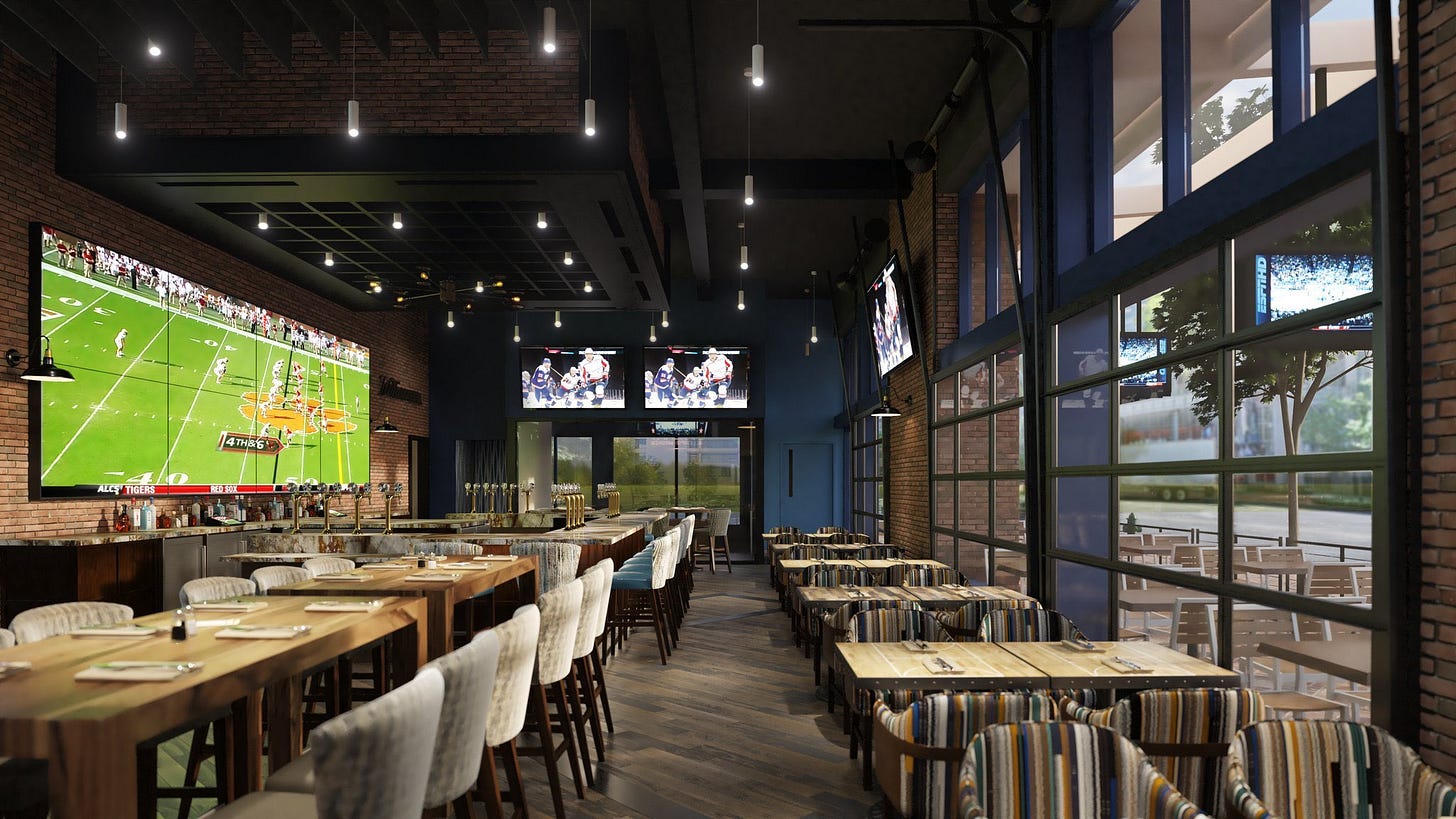 ---
This Newsletter Is Brought To You By…

Don't sacrifice your ability to be healthy, active, and at your best to enjoy a great beer - Athletic Brewing has created an innovative lineup of refreshing, non-alcoholic craft beers. At Athletic Brewing, they're all about re-imagining beer for the modern adult.
With Athletic beers, you can have the full relaxing ritual of drinking a great beer to wind down the day, with your dinner, or day drinking, without derailing the rest of your day or week.
Looking for a great beer for Sunday through Thursday nights? Athletic's got you covered.
Give them a try - use "JOE25" for 25% off your first order at athleticbrewing.com.