Discover more from Huddle Up
A 3x weekly newsletter breaking down the business and money behind sports. Join 100,000+ subscribers.
Over 118,000 subscribers
We're Moving From A World Of Athlete Investors To Athlete Entrepreneurs
The multi-year shift we are seeing from athletic investors to athletic entrepreneurs.
Every morning I write an email discussing the business and money behind sports. If you would like to receive it directly in your inbox, subscribe now.
Friends,
Last week Patrick Mahomes announced his partnership with BioSteel, a nutrition company for athletes and exercise enthusiasts. The deal is reported to pay him a combination of cash and equity in the business. The amount of equity is unknown but my guess would be ~10% or less.
Fresh off his $503M contract, Mahomes now has existing athlete-brand partnerships with Adidas, Oakley, Head & Shoulders, State Farm, BioSteel, DIRECTV, Essentia Water, EA and also a newly purchased equity stake in the Kansas City Royals (Source).
These deals are only possible through on-field success. Mahomes has accomplished that, been rewarded with a large contract extension, and is now strategically placing bets to multiply his fortune. But is this what the typical athlete will be doing 10 years from now? I don't think so.
We are going to see, and to some degree already have, a shift in how athletes start investing their money. The athlete investing cycle will go through 3 main phases, two of which we've already experienced.
The first phase is your typical athlete-brand partnership, where the athlete is compensated with cash for associating himself with the brand and promoting their products/services. These deals have been happening since the early 1900s and will continue throughout the future. It makes sense for the brand and requires little work for the athlete - a win for both parties.
The second phase is an equity partnership, which is similar to the first phase but includes a small portion of equity for the athlete to incentivize them with uncapped upside. These deals are currently reserved for the top 25-50 athletes in the world but have become more popular in the last 10-15 years.
The third phase, which we've rarely seen, is the athlete partnering with the best entrepreneurs in the world to create businesses where they have large percentage ownership stakes. Instead of negotiating for a few percentage points with an existing brand, or putting up capital through a funding round, they will partner with talented individuals, fund the business themselves and capitalize off their larger equity ownership stake. This structure enables athletes to participate in the full lifecycle of a company and incentivizes them with potential growth each time they promote the product.
For example, in November 2018, the superstar combo of LeBron James, Cindy Crawford, Arnold Schwarzenegger and Lindsey Vonn teamed up with Main Street Advisors to launch a health and wellness company called Ladder. A subscription service by nature, Ladder offers four core products - two protein powders, a greens powder and an energy powder—and also creates content related to healthy living (Source).
It's too early to tell how the company will scale, but with the celebrity lineup Ladder has, it's hard not to envision success.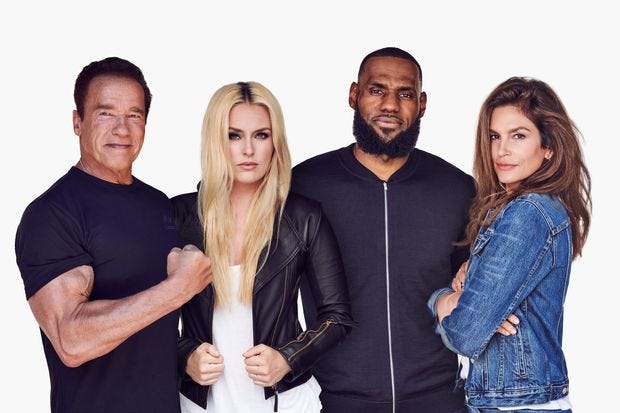 Another athlete that has chosen to attack the health and wellness space is Tom Brady, with TB12. Brady and his trainer Alex Guerrero co-founded TB12 on the belief that "everyone can benefit from a smarter, more holistic approach to health and wellness". 
While nutrition is an obvious choice, I think this will extend out to various other products and services. Which baseball player will challenge Louisville Slugger? Who is the first NBA player to create a new basketball? What athlete will look to upend the recovery space? The possibilities are endless.
We are moving to a world where audience is the new currency. For example, every DTC company that failed in the last 5 years would have been in a completely different situation if their customer acquisition cost was drastically lower thanks to a celebrity co-founder. It won't happen with every athlete right out of the gate, but this trend of athlete-entrepreneur is the next evolution after athlete-investor. 
If you enjoyed today's email, subscribe now to receive future emails directly in your inbox.
Extra Credit
Late last year, Shaquille O'Neal sat down with the WSJ to discuss "how he leveraged his basketball success to move beyond endorsement deals into entrepreneurial ventures with Carnival Cruise Line, Krispy Kreme and other companies". This video is a great combination of humor and education - I think you'll enjoy it.
His first investment? Google
How he decides what to invest in? Gut feeling
His favorite franchise he owns? Krispy Kreme, because he "loves donuts".
Want To Submit A Topic? 
As we continue to get inbound request regarding specific topics, we'd like to create a streamlined process. Please use the form below to submit potential topics for Huddle Up to write about. If we select your topic, we'll give you a shoutout!